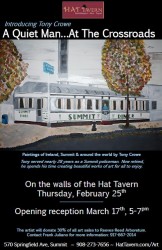 The Reeves-Reed Arboretum, in conjunction with the Grand Summit Hotel, is presenting 35 works from local resident Tony Crowe in a special exhibit called "A Quiet Man…at the Crossroads." The exhibit, shown at the hotel's Hat Tavern, officially opens Thursday, March 17, with a reception from 5:00PM through 7:00PM, and features paintings of Ireland and Summit. The artwork will be displayed for several months.
The fact the exhibit opens on St. Patrick's Day is no coincidence. Crowe was born in Ireland, and immigrated to the U.S., which explains his works featuring Irish landscapes and castles. While growing up in Ireland, Tony got involved in art mainly as a means of entertainment and escape, since there was no television.
The radio filled his hours with news, music, and storytelling. The mind of a young and impressionable boy was soon filled with images of amazing exploits – like knights in armor, damsels in distress, castles and stark cliffs overlooking white crested waves, and these were the first images to find their way on to paper.
Tony formalized his art education and increased his skills and confidence with classes and workshops at local schools and art centers. Now, in retirement from almost 28 years with the Summit police, he dedicates more and more time to creating beautiful works that speak of his first love, Ireland, his home, Summit, and the many other subjects from which he derives inspiration.
The exhibition will run through the month of June and all the artwork is for sale. In fact, the artist will donate 30% of all purchases to Reeves-Reed Arboretum. Click here for more information, as well thumbnail photos of the artist's work.
Details for "A Quiet Man…at the Crossroads":
A special exhibit opening Thursday, March 17 with a reception from 5:00PM through 7:00PM. Exhibit will run through June.
The Hat Tavern at the Grand Summit Hotel
570 Springfield Avenue, Summit