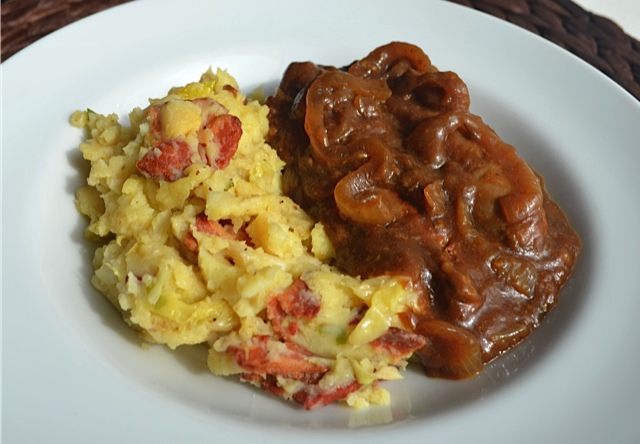 prepared and photographed by Emily S. Downs

A sweet and savory dish to celebrate St. Patrick's Day with your family. Another selection found worthy of sharing from Closet Cooking…
Colcannon is is traditionally made from mashed potatoes and kale (or cabbage), with milk (or cream) and butter. In this version, bacon and green are added boosting both texture and flavor.
Bangers are Irish or English pork sausages usually served over mashed potatoes.

Size:

makes 4 servings



Ingredients:
1 lb potatoes, peeled and diced
1/4 lb bacon, cut into 1" slices
Freshly ground pepper to taste
1 tbsp unsalted butter
1/4 small head cabbage, thinly sliced
4 green onions, sliced
Salt and pepper
1 tbsp vegetable oil
1 lb sausage (Irish or English Bangers... I found at Whole Foods)
1 large onion, sliced
1 clove garlic, chopped
1 tsp fresh thyme, chopped
2 tbsp flour
1 bottle of Guinness
2 tbsp brown or yellow mustard
1 tbsp Worcestershire sauce
1/2-1 tbsp light brown sugar
1 tbsp butter
1 tbsp sour cream
Milk (to even out consistency of mashed potatoes (Colcannon) as desired)



Directions:




Bring medium pot of water to boil, add the potatoes and simmer until fork tender, about 20-30 minutes.

Meanwhile, cook the bacon in a large pan over medium heat until it renders, about 3-5 minutes. Add the butter to the bacon, season with salt and pepper and cook until it foams, about a minute. Add the cabbage to the bacon, mix to coat and let cook until tender, about 10 minutes. Add the green onions to the cabbage, cook for 5 minutes, season with salt and pepper and set aside…

Heat the veggie oil in a pan over medium heat. Add the sausage and cook until golden brown, about 5-6 minutes per side, remove from pan and set aside.

Add the onions to the pan where the sausage was cooked and sauté until tender, about 5-7 minutes. Add the garlic and thyme and sauté until fragrant, about a minute. Sprinkle in the flour, stir and let it cook for a few minutes. Add the Guinness, mustard, Worcestershire sauce and brown sugar along with the sausage and simmer for 10 minutes.

Remove the sausage and continue to simmer reducing gravy by half… about 10 minutes.

Meanwhile, mash the potatoes, mix in the cabbage and bacon mixture; followed by the butter, sour cream and enough milk until desired consistency.

Divide the Colcannon between 4 plates, top with Bangers and cover in gravy… sprinkle sliced green onion as garnish (optional).