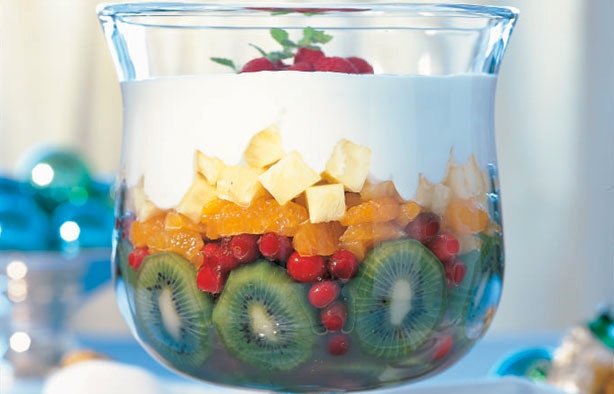 This breakfast/brunch parfait isn't just delicious, it's also pretty enough to serve as your holiday morning centerpiece.  Also helps kick-start your day with healthy, juicy seasonal fruit and creamy cinnamon yogurt.  Add raspberries and/or blueberries to raise the bar.  (Can be completely assembled the evening before.)

Size:

6 servings



Ingredients:
1 1/2 cups cranberries (about 6 oz)
1/3 cup water
3 tbsp sugar
1 1//2 cups chunky-style applesauce
4 to 5 kiwis, peeled, cut into 1/4" thick rounds
4-6 tangerines, peeled, segmented, seeded if desired
3 cups 1/2" cubes fresh pineapple (from 1/2 large pineapple)
3 cups vanilla yogurt
1/4 tsp ground cinnamon
Raspberries and/or blueberries *
Tangerine peel strips (optional)



Directions:




Combine cranberries, 1/3 cup water and sugar in heavy small saucepen.  Bring to boil over medium-high heat, stirring until sugar dissolves.  Boil until berries are soft, about 3 minutes; transfer to medium bowl and cool.  Transfer 2 tablespoons cranberry mixture to small bowl and reserve for topping.  Mix applesauce into remaining cranberry mixture.  Cover and refrigerate until cold, at least 1 hour.

Arrange enough kiwi rounds in single layer on bottom of 8×4 1/2″ trifle bowl or glass souffle dish to cover.  Stand remaining kiwis around bottom edge of bowl, pressing to adhere to sides.  Spoon cranberry mixture over kiwis on bottom.  Top with layer of tangerine segments, then pineapple cubes.  Stir yogurt in medium bowl until smooth; mix in cinnamon.  Spread yogurt evenly over fruit.  Spoon reserved 2 tablespoons cranberry mixture atop center of yogurt; garnish with tangerine strips, if desired.  Cover; chill at least 1 hour and up to 1 day.

* Feel free to add raspberries and/or blueberries amongst layers of fruit.