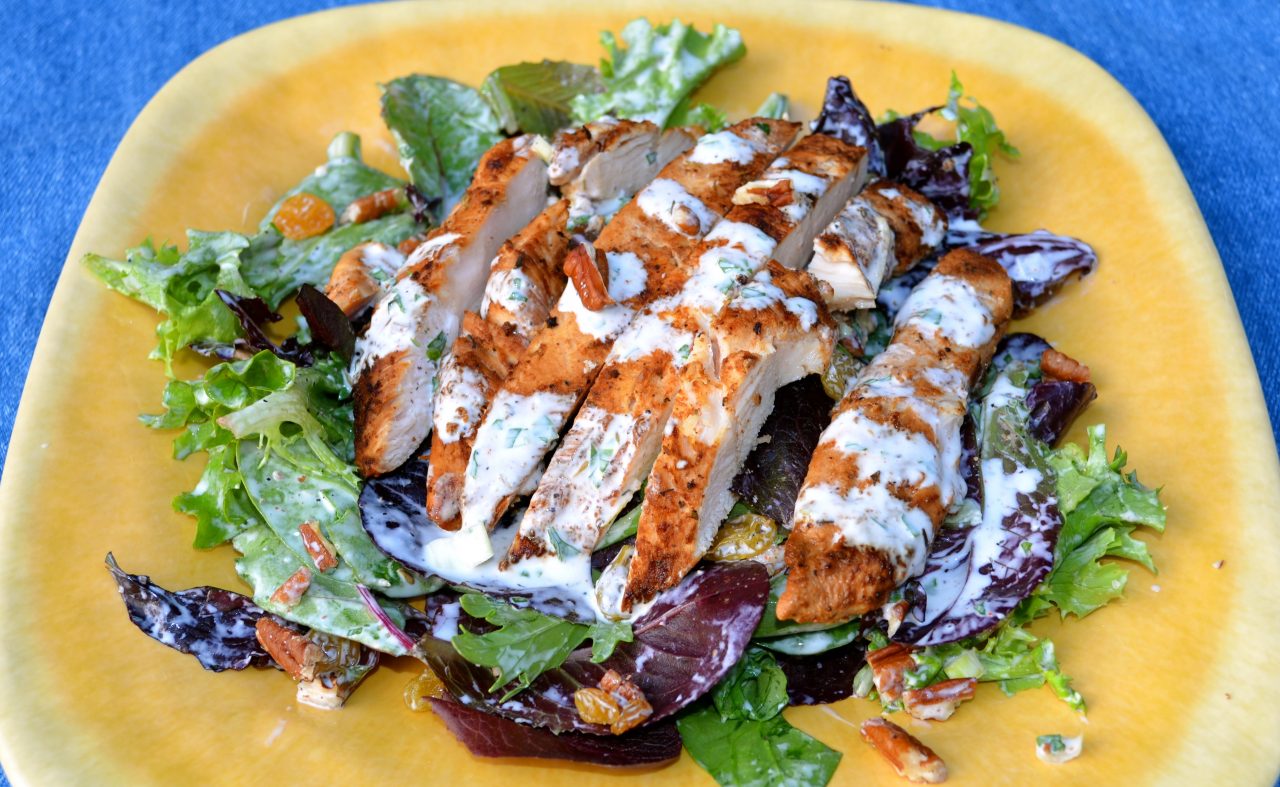 prepared by and photo by Emily S. Downs

Love me a salad with a Cajun kick.  Marinating the chicken in buttermilk keeps it tender when grilled.

Size:

4 servings



Ingredients:
SEASONING:
2 tsp salt
1/2 tsp garlic powder
1/2 onion powder
1/2 tsp dried thyme
1/2 tsp dried oregano
1/2 ground black pepper
1/2 tsp paprika
1/2 tsp cayenne pepper
SALAD DRESSING:
1 3/4 cups buttermilk
1/2 cup mayonnaise
2 tbsp chopped green onion
2 tbsp chopped fresh parsley
1 tbsp apple cider vinegar
1 garlic clove, minced
1/2 tsp grated lemon peel
1 1/2 lbs skinless boneless chicken breast halves
1 5-oz package mixed baby greens
1/2 cup pecans, toasted
1/4 cup raisins (optional)



Directions:




SEASONING:  Mix all ingredients in small bowl to blend.

SALAD DRESSING:  Whisk 3/4 cup buttermilk, mayonnaise, chopped green onion, chopped fresh parsley, apple cider vinegar, garlic, lemon peel and 1 1/2 tsp seasoning mixture in medium bowl until well blended.  Season dressing to taste with salt and pepper.  (Can be prepared 1 day ahead.  Store remaining seasoning at room temperature.  Cover and refrigerate dressing.)

Rub remaining seasoning mixture onto chicken.  Place chicken in medium bowl.  Pour remaining 1 cup buttermilk over chicken, turning to coat.  Refrigerate at least 30 minutes and up to 3 hours, turning occasionally.

Prepare barbecue (medium-high heat).  Remove chicken breasts from buttermilk, shaking off excess.  Grill chicken until just cooked through, about 5 minutes per side.  Transfer chicken to cutting board and let rest 5 minutes.

Combine mixed greens, pecans and raisins (if using) in large bowl.  Toss with enough dressing to coat.   Season salad with salt and pepper.  Divide salad along 4 plates.  Cut chicken on sharp diagonal into 1/2″ thick slices.  Arrange atop salads and serve.