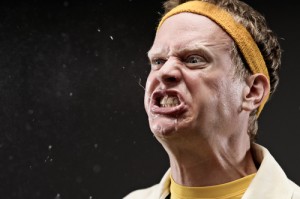 Every year you hear the stories. You know the ones, "Crazy Parents Brawl on Sidelines at T-Ball", "Crazy Parent Attacks 6th grade Ref for Missed Call", "Coach Takes Out Restraining Order on Crazy Parent", etc. You see the recurring theme, right? What is it about kids' sports that gets our generation so riled up, often to the point of actual insanity? I am not sure, but the third party embarrassment is starting to get to me.
Why Kids' Sports are Great FOR KIDS
– Physical Activity
– Team Building
– Social Benefits
– Skill Development and Confidence
– It is Fun
When Kids' Sports are Bad FOR EVERYONE
– When Parents Use Their Child's Performance as a Badge of Honor or a Personal Failure
– When Parents Expect Too Much From Their Kids
– When Parents Expect Too Much From Their Kids' Coach
– When Parents Scream Crazy Stuff From The Sidelines
– When Parents Scream at Kids
– When Parents Scream at Coach
– When Parents Scream at Ref
… you get the idea.
It is so sad when something meant to be fun and beneficial, gets warped by a misguided few. I too, want my kids to play well, but let's get it together people. Perspective is a wonderful thing.
1. Only be positive from the sidelines.
2. Never talk about your child's coach in front of him or her. How can they be expected to learn the valuable lesson of respecting authority if you exemplify the opposite?
3. Never talk about the play of other children (never is a good goal, but at the very least, not around your kids.)
4. Even if a sport is intensely important to you, don't let it show. Follow your child's lead. They can shake off a loss without problem, don't allow your behavior to put more emphasis on it. Your excitement or disappointment about wins and losses, teams made and teams not made, great skill or lack thereof, will speak volumes to your child about what is really important to you.
5. In general, just be grateful your child is healthy enough to play, fortunate enough to live in a place where he or she is free to play, and hope the games don't interfere with Happy Hour. As much as I hate to be the bearer of bad news, your chance to play Kids' Sports is over. Sit back, relax and let the kids be kids.
Here is a letter from a volunteer coach a friend posted on Facebook. If your kids have a parent coach, I think it is worth a quick read.