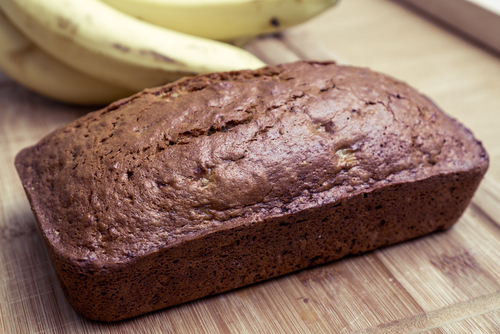 If you have a nut allergy in your family, you may want to pass on this recipe. If you don't, it is the best thing you will ever eat, if you like banana bread. It contains no gluten or processed sugar. The problem for me is you are supposed to portion control yourself and it is almost impossible to do that with this bread. Your kids will love it and it is packed with protein and the healthy fats. You can feel good about serving this at breakfast or as an afternoon snack.

Size:

Depends if you can refrain from eating the whole thing.



Ingredients:
1/2 C coconut oil – measure as a solid, then melt before mixing
2/3 C organic 100% maple syrup
2 organic eggs
1 1/2 C ripened bananas – I use 4 medium bananas (it usually comes out to about 1 3/4 C, but I find that it makes the bread moister!)
2 C almond flour-Trader Joe's
1/4 C coconut flour-I found at Whole Foods
1 tsp Himalayan ground sea salt-Trader Joe's
1/2 tsp cinnamon
1 tsp baking powder
3/4 tsp baking soda
1/3 C organic shredded coconut



Directions:




Combine melted coconut oil and syrup; then add eggs separately; then add bananas.

Combine all dry ingredients in separate bowl and then mix with wet ingredients.

Generously grease and flour pan(s) using coconut oil and brown rice flour.

Bake at 350 degrees F

If using small loaf pans bake for 30 mins.

If using large loaf pan bake for 50-60 mins. I have found the small pans work better for this recipe.

Most of the ingredients can be found at Trader Joe's or your local grocery store.

I have made this a few times. It is so moist it falls apart sometimes. So don't stress over that. It still tastes great.