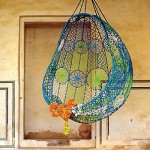 Swing sets for grown-ups. It's the perfect way to add some whimsy to a space. You can lounge in it all day long (inside or out). Sling this pod of citrus or neutral-hued macrame from porch rafters or tree branches and take in the gentle summer breezes, Anthropologie's Knotted Melati Hanging Chair $498.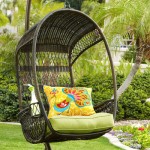 Hippy, happy and fun? Durable and downright practical. After all, the outdoor Pier 1's Swingasan Chair features an airy, open-weave back, side compartments for your drink and a canopy that provides cool shade. All in weather-proof synthetic rattan that's been woven by hand over a sturdy, rust-resistant iron frame. Also check out the Daisy version, Daisy Pier 1's Outdoor Swingasan chair $299.95.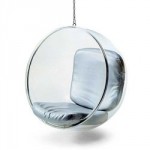 Since the introduction of bubble chairs, they have been considered as a luxury item. Eero Aarnio Style Bubble Hanging Chair is an acrylic and stainless steel bubble chair. It remains as cutting edge in its design, despite being created over 40 years ago. This item is a high quality reproduction of the original. Unlike many other chairs, these chairs are easy to assemble and convenient to transport. You can place it either indoors or outdoors. $649.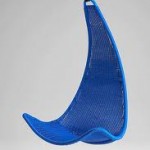 IKEA PS SVINGA Hanging Seat Swinging develops the sense of balance and body perception. It also brings a feeling of well-being and relaxation. This kid-sized swing is perfect for the indoors or outdoors. It also comes in the larger version, and the shape keeps it from swinging as wide as a regular swing, making it safer. Plus, it's comfortable. $69.99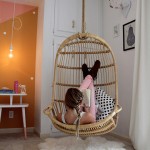 A Hanging Rattan Chair from Serena and Lily. Inspired by a Scandinavian design from the 60s, the sculptural frame is hand made of bent rattan with a scooped seat that cradles you as you float. Hangs by a heavy-duty loop and rope, so it's super sturdy. Add a pillow in a fun fabric for a pop of color and cushion. $450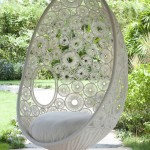 Hang this stunning chair from your porch or balcony, or as a feature in your living room. It looks incredible, but, most importantly, it is super comfy. Available in white only. Includes hanging chain and seat cushion. 85cm x 60cm x 125cm. Cush and Nooks. $900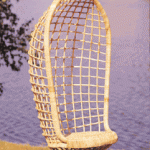 Handcrafted from sturdy natural finish rattan, this hanging swing   entices you to sit back and enjoy a warm summer day. Comes with ample chain for hanging. Fran's single hanging swing $325.