HALLOWEEN CANDY BUYBACK PROGRAM
Tuesday, November 1 and Thursday, November 3 from 9:00AM to 4:00PM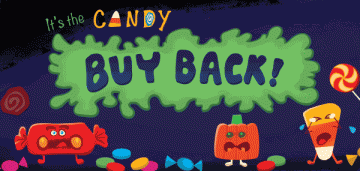 Who doesn't love candy?  But how much candy does one really need?  
Here's a perfect opportunity to share some of your leftover trick-or-treat Halloween goodies with our US troops.   
Adults and children will feel good about the Halloween Candy Buyback Program.  Drop off unopened candy to the Advanced Dentistry, LLC office, 33 Main Street (Suite 101), Chatham on Tuesday, November 1 and Thursday, November 3 between the hours of 9:00am and 4:00pm.  The donated candy will be sent to Operation Gratitude – who they will then distribute it with care packages sent to our US troops.  Personal notes can also be included with your candy donations.
I think this is a great way for everyone to share a sweet gift and express our appreciation.