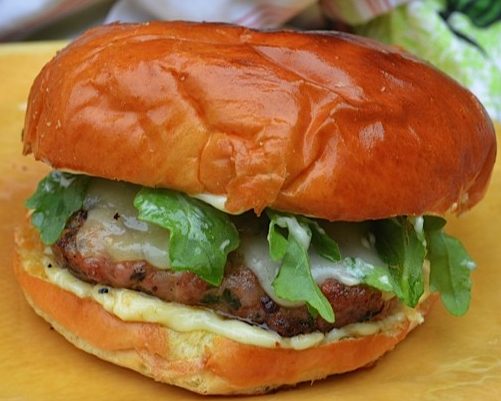 prepared by and photo by Emily S. Downs

These burgers do take a little time to prep, but you can make them ahead of time and refrigerate. When you're ready to grill them, allow each to get to room temp prior to grilling. Making the aioli sauce is not my forte, so I found that Stonehill Kitchen makes a delicious jarred roasted garlic aioli which worked just fine. Suzanne Goin adapted this recipe, in which I have shared with you. These burgers are amazing. I made all six and enjoyed them over the course of a few days.  I'm sure you could freeze each individually as well…

Size:

makes 6 burgers



Ingredients:
BURGER:
1 1/2 tsp cumin seeds
3 tbsp extra-vigin olive oil, plus more for grilling
1/2 cup diced shallots
1 tbsp minced garlic
1 tbsp thyme leaves
2 chiles de arbol, thinly sliced on the bias (Fairway, Whole Foods)
2 lbs ground pork
1/4 lb fresh Mexican chorizo, casing removed (Whole Foods, Fairway has fresh chorizo)
3 oz applewood-smoked bacon, finely diced (Whole Foods, Kings, Fairway...)
2 tbsp chopped flat-leaf parsley
6 slices Manchego cheese
6 brioche or other good burger buns
Ailoi (see ingredients & recipe below OR Stonewall Kitchen has it jarred at Whole Foods & Fairway)
2 oz arugula
Kosher salt & freshly ground black pepper
AIOLI:
1 extra-large egg yolk
1/2 grapeseed oil
1/2 cup extra-virgin olive oil
1 small clove garlic
1/2 lemon, for juicing
Pinch cayenne pepper
Kosher salt



Directions:




BURGER: In a medium pan, toast the cumin seeds over medium heat a few minutes, until the seeds release their aroma and darken slightly. Pound the seeds in a mortar or spice grinder until coarsely ground. Return the pan to the stove over high heat for 1 minute. Add the olive oil and shallots. Turn the heat down to medium-low, and cook a few minutes, stirring once or twice, until the shallots start to soften. Add the garlic, thyme, cumin, and sliced chile. Season with 1/4 teaspoon salt and a few grindings of black pepper, and cook 3 to 4 minutes, until the shallots become translucent. Set aside to cool.

In a large bowl, use your hands to combine the ground pork, chorizo, bacon, shallot mixture, and parsley, being careful not to over mix the meat. Season with 1 1/4 tsp salt and lots of freshly ground black pepper. Shape the meat into six 6 oz patties. Chill in the refrigerator if not using right away. Let the burgers return to room temperature before grilling.

Light the grill 30 minutes before cooking. Brush the pork burgers with olive oil, and grill them 3 to 4 minutes on the first side, until they're nicely another 3 minutes or so, until the pork is just cooked through. (It should still be slightly pink in the center.) Slice the buns in half, brush them with olive oil, and toast them on the grill, cut side down, for a minute or so, until they're lightly browned.

Spread both sides of the buns with aioli. Place a burger on the bottom half of each bun. Top with cheese, place some aurgula leaves on top, and finish with the top of the bun.

AIOLI: Place the yolk in a stainless steel bowl. Begin whisking in the grape seed oil drop by drop. Once the mixture has thickened and emulsified, you can whisk in the remaining grape seed and olive oils in a slow steady stream. If the mixture gets too thick, add a drop or two of water.

Pound the garlic with 1/4 teaspoon salt with a mortar and pestle. Whisk the garlic paste into the aioli. Season with 1/4 teaspoon salt, a squeeze of lemon juice, and the cayenne Taste for balance and seasoning. If the aioli seems thick and gloppy, thin it with a little water. In addition to thinning the aioli, this will also make it creamier.