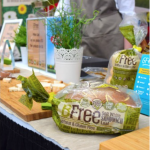 Attend the gluten free expo in Secaucas, NJ at the Meadowlands Convention Center on October 15 & 16th.
10:00-4:00 pm
Concessions will be open for beverage purchases only.
Parking is free.
Safety is Our First Priority
By entering the exhibit hall, you are accepting the following:
The show is not 100% free from any potential allergen, as it is hosted in a multi-use venue. All visitors must be aware of their health situation, take appropriate precautions and carry necessary medication.
The show is meant to meet the needs of people with a diverse array of health conditions. All products are gluten free however, many booths do contain other allergens.
Not all items at the show are certified gluten-free. Also, some items are made in shared facilities but meet certification and government requirements. It is up to each individual to read labels before using, consuming or purchasing products.
You know your health situation better than anyone else. If you are not able to tolerate a product, do not sample.
The products and advice of exhibitors are not endorsed in any way by the show organizers. Show organizers take no responsibility for discussions between visitors and exhibitors, nor for any situation that may occur as a result of those conversations.