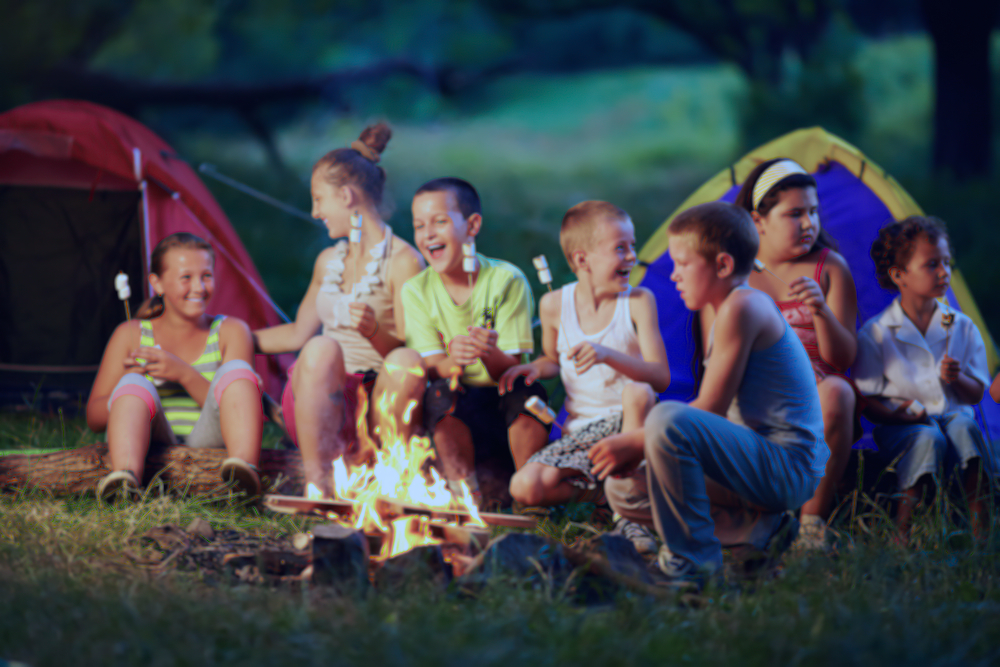 Grab the tents and marshmallows, it's time for a backyard camping party! Many children enjoy the outdoor experience, and camping makes an excellent theme for a birthday party. Instead of taking the party to an official campground, set up your back yard to mimic the experience and host your birthday celebration. With a few decorations and pre-planned activities, you can set the mood for a camping party. Have a backup plan such as setting up the birthday party in a living room if you experience inclement weather the day of the event.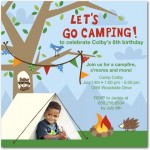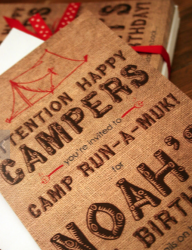 INVITES AND DECOR
Customize the invite from Tiny Prints with your child's photograph or get this printable customized invite from Etsy for only $15 (they email you the file, you print). Camp-themed paper goods from
Birthday Express are adorable. Let's Go Camping Deluxe Party Pack for 8 includes dinner plates, cups, forks, spoons, activity placemats, 16 napkins, tablecover, centerpiece, and more. Add a tent pinata to your order for $18. Don't feel like making a bonfire? Substitute with an Inflatable campfire from Oriental Trading.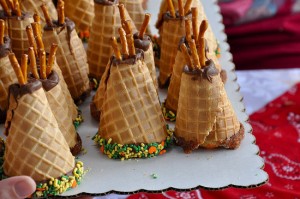 FOOD
Dessert first. How cute are these Teepee Cupcakes? Using a muffin pan to keep the ice cream cones upright, fill each one with cake batter. Once cooled, dip both sides in chocolate and sprinkles. On the shorter end of the cone, use pretzels sticks to create posts that would keep the teepee up right. The kids will be so excited to chow down on their very own teepee. Add some S'more Sundaes and bring the flavors of this camp-fire classic to the table.  S'mores in a sundae form will send them to bed with sweet dreams. Now to the main course. Who doesn't love Mini-Dogs In a Blanket? A crowd pleaser for both young and old, these "Homemade" pigs-in-blankets are made from scratch which leaves room to use the hotdogs of your choice. Or make your own Sandwich Buffet, which will give the guests many options.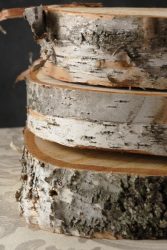 CRAFTS
Little guests, and the birthday child, can create their very own wooden masterpiece to commemorate the occasion. Paint log ends to use as trivets or wall hangings. I found these log ends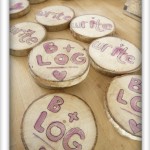 , add a selection of craft paint and mod podge/scrapbooking papers for creativity.  Another craft idea is to make their own birch log/secret container from Pringles Cans. Glue birch bark paper around the canister. Trace the end of the canister onto a brown paper bag and cut out two of them. Draw the growth rings onto the brown paper and glue one on each end. Wrap the yarn around the log to make it pretty (and to cover the seam between the pieces of paper). Fill the canister with snacks or whatever you like.
ACTIVITIES & FAVORS
Outdoor movies and tent set-up can heighten the camping experience. Suburban Camping Co. is an event planning company that sets up little (to quite large) backyard campouts, add-ons include outdoor movie set-up and a s' mores bar. They will bring the camping experience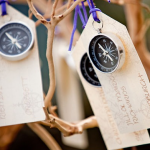 to your home. Camping themed party
favor ideas are plentiful. These canteens from Oriental Trading were customized by printing out circles on the home computer, or order custom water bottle labels. A Coleman Camping Compass can be attached to plain gift tags or Owl fun gift tags as favors.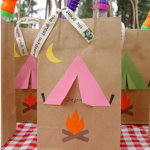 GAMES
Treasure hunt
This is a 'candy' treasure hunt. To play this game, you need to hide wrapped candies before the party. You can hide them in the area, where you host the party or all over the backyard. To make it even more interesting, play this game in the dark and let every child have a flashlight. They have a task on their hands. They have to search for the candies, which are hidden. Give each kid a bag or a sack, to help them store the candies they find.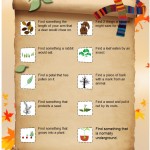 Nature Scavenger Hunt
Nature Scavenger Hunt. It's a hit camping game for outdoors. When playing this game, you can make use of the backyard, park, pond or even the lake. This is an interesting game, but at the same time, it even helps children improve their memory. Give children big plastic bags, a spoon and a bucket to collect the items. The list can include berries, 3 different colored smooth stones, moss, large rock, leaves from 3 different trees, 2 different types of grass, something faster than a snail, something that makes noise and wood. Anything you can come up with along those lines.
Rattlesnake Tag
This game creates a real camp-like atmosphere. When planning this tag style game, the children have to hold hands, so they can form a long rattlesnake. The last in the line is the rattle, while the one standing first in the line, gets a designation of a rattlesnake head. An important rule of this game is the kids should not let go of the hands held. But what is their real task here? Simple. To tag the rattle. It may sound like an easy game, but it gets crazy. Once the kids are all in line they have to tag the rattle, the rattlesnakes head then gets designated as the tail.