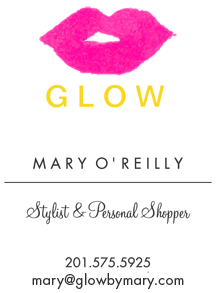 I met my friend Mary O'Reilly eight years ago when our daughters began kindergarten together. I can easily recall the impression she made on me back then. While many moms at the Ridge School drop-off adopted a "workout" uniform of leggings and a tee-shirt, Mary never did. She sparkled, she shimmered, she had a style all her own. Her well-cut jeans, fitted jackets and eyeshadow (!) upped the ante for the rest of us in our post-baby phase. She exuded confidence in an enviable way, but without ever showing up the other moms. She was just Mary being Mary: glamorous, fun, and  – dare I say – chic. I often thought, how does she do it? And even, why does she do it? Had she forgotten that we were in suburban New Jersey?!  But I was drawn to this chick, admiring her positive energy and her interesting shoes. I'd pepper her with questions about where she found this bangle or that scarf. I remember a rainy school pick up where Mary – smiling, with a baby on her hip and a toddler in tow – rocked a pair of deep purple rain boots and the coolest umbrella I've seen. Just Mary being Mary.
It's a passion for style that has inspired Mary to launch Glow —  a boutique styling and personal shopping service aimed at finding her client's individual flair and celebrating their unique style and sensibility with a fun, non-intimidating approach.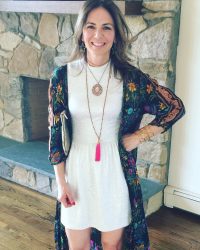 As Mary tells it, "when I enter a retail store my heart rate quickens with the promise of opportunity — a chance to discover a treasure that will one day complete an outfit and bring it to life. Maybe it's a leather jacket that fits like a glove or the perfect pair of Mary Janes that I have been looking for forever…Whatever that special something may be, I've always had a knack for finding it! I am the friend who texts you a snapshot of that pair of knee-high boots that scream your name (and are miraculously on major sale!) It's been this way for me for as long as I can remember. I was truly and undoubtedly born to shop".
Lucky for us, Mary has harnessed her lifetime love of fashion and style and incorporated it into all corners of her life. Her impressive work experience includes a 10+ year career in the fashion magazine and special events industries. From curating and commentating major fashion shows nationwide for In Style, Harper's Bazaar and GQ magazines, to serving on the special events team behind the famous Vanity Fair Oscars party, Mary has always been enchanted with what's in vogue.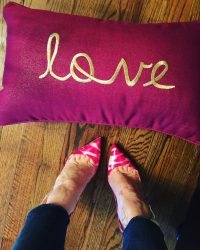 The idea behind Glow is this connection: when you feel good inside that feeling truly radiates to your appearance. As your "fashion go-to girl", Mary's services include all things fashion and style related, including closet consultations and make-overs, wardrobe refreshing, designing customized lookbooks, personal shopping, special event prep, creating one-of-a-kind gift baskets, help with packing…you name it! Mary can also recommend and refer you to tons of local beauty and style purveyors. To find out more about her services, please visit www.glowbymary.com, like her "Glow" page on Facebook and follow her on Instagram at #glowbymary. You can also contact Mary at mary@glowbymary.com.
I love the notion that enlisting Mary's help to build an outfit or a wardrobe that makes you feel your best can give you the confidence and radiance to glow from the inside out. Feeling good = looking good. Couldn't we all use a dose of Mary's moxie?