Now is the time to follow through with one of your New Year's Resolutions. It's an age old dilemma for parents of children of all ages. What do you do with all of your kids' art they bring home from school? Like most mothers, there is an immense wave of guilt which comes over me at the thought of throwing any of it out. I have learned to edit down the pieces we keep and have a lovely storage bin for the rest. Here are four fabulous ways to proudly display your kids' art that will make your home look great too.
1. Modern Art The idea for Off The Fridge came about from a search for artwork for children's rooms. Now these modern pieces can be created for any room where you want a personal touch. Submit a drawing or sketch and Off the Fridge will transform it into a large bold print. Doodles and children's artwork can come to life and emblazon your walls.
2. Art Fabric ?Did you know that you can have just about any image you want turned into fabric at an affordable price? At Spoonflower, an online fabric printer that will digitally print your custom designs, you can simply upload an image (you'll need to scan or take a high quality digital photo of the piece you want to print) to the site and have it printed onto your choice of fabric. Options include quilting weight, organic cotton sateen, organic cotton knit, upholstery weight-twill, linen-cotton canvas, silk crepe de chine, and cotton voile. You can order an eight inch square test swatch for $5 or a fat quarter (21″ x 18″) for under $20 in the fabric of your choice, or go crazy and order yards and yards of your favorite piece of your kids' talent. Then turn your favorite design into a throw pillow for a beautiful and comfortable kids art display.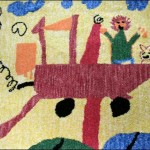 3. Art Carpet? If you want something on a bigger scale and can swing a bit more cash, how about a custom carpet? German based rug company Carpettz will turn any image you want into a one of a kind hand tufted rug made from 100% New Zealand wool and will ship it worldwide. Just send them your image and in about 10 weeks, you're custom rug will be delivered to your door. Not only will you have a wonderful way to put your kids' artwork on display, but your kids will be thrilled to have their custom design become a part of your home's décor. It may even inspire more creativity.

4. Art Gallery? Create your very own Museum of Children's Art with a gallery of your children's artwork. Dedicate a wall to displaying their artwork and find frames of varying sizes to suit your style. I happen to love the Lil Davinci Art Cabinets by Dynamic Frames which come in four sizes, opens easily without having to come off the wall, and each frame stores as many as 50 pieces of art! Not only do you get a lovely display, but the hidden storage means you never have to look for a place to put the new piece that comes home from school. These frames are available in three colors and range in price from $24.95 to $153.