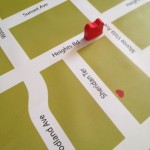 Today's talented designers are customizing blankets, toys, and more to show off the town of your choice. Perfect for baby gifts, birthday gifts or hostess gifts, these kid-friendly designs will have little ones learning their way around a map long before they ever have a driver's license! Check them out!
 Your Neighborhood Custom Playmat How cool is this!? The child gets to learn the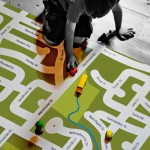 local streets in their neighborhood , while driving their toy cars on this custom-designed road map play mat. They will know the neighborhood in no time with BoardStiff's custom playmat. Simply send your home address and any local landmarks you love, and the team will put together a proof of the vinyl playmat for your tot. I had a large one made of my nephew's Ridgewood neighborhood (see above pic), and he loves it! Pay extra for the deluxe because it is easier to clean.

Soft Cities Fleece Blankets Eric and Nikki Gunn Rodenbeck make your hometown soft, really soft. Their Soft Cities Fleece Blankets can be customized to any location in the world. Just send them the address (and tell them where you want the "I am Here" locator to be placed) and a custom blanket can be yours!
Birthplace Map Custom Print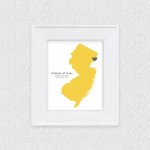 Put their hometown on their wall. I love the graphics of this United States of America print or the individual state print. Just send the artists the town and color preferences and they'll create a print your tot will love. Customize the colors to coordinate with the room. This would also make an excellent wedding gift. The heart could mark the location of their wedding, with the names and date written on the side.