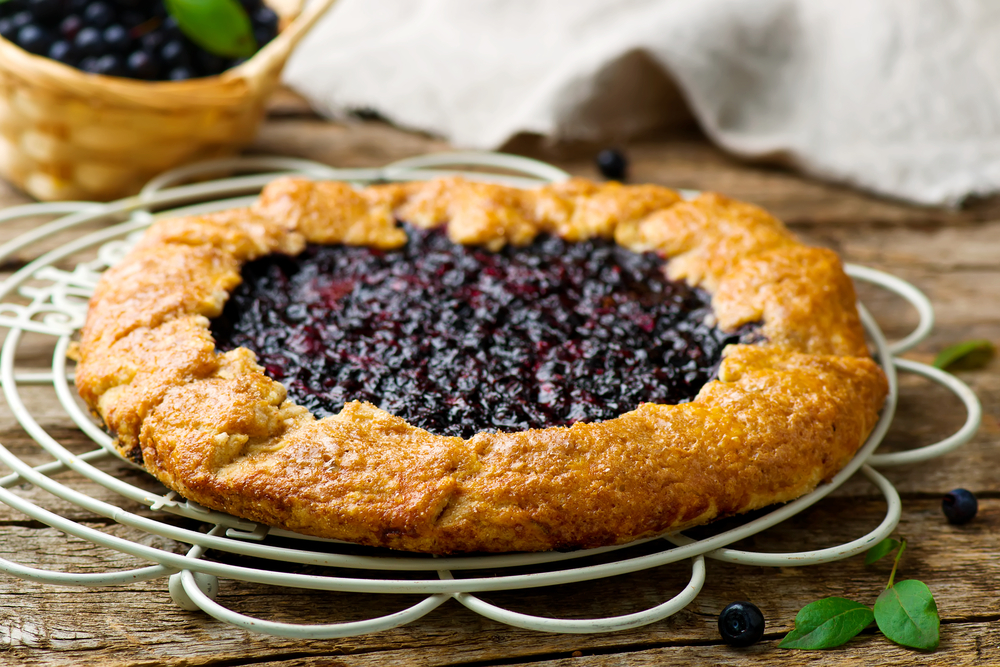 I just love the free-form tart.  Gives you an excuse if it isn't too pretty.  Regardless of the look, this blueberry tart will taste delicious.  Guaranteed.

Size:

8 servings



Ingredients:
1 1/2 cups all-purpose flour, plus more for sprinkling
1 tbsp minced candied ginger
1/4 tsp salt
1 1/2 sticks cold unsalted butter, cut into small pieces
1/4 cup plus 1 tbsp ice water
1/4 cup sugar, plus more for sprinkling
2 tsp finely grated lemon zest
1/4 cup all-purpose flour
4 cups blueberries
2 tbsp fresh lemon juice
1 egg white, beaten
Lemon or vanilla ice cream (optional)



Directions:




PREPARE THE PASTRY:  In a food processor, combine the 1 1/2 cups of flour with the candied ginger and salt and pulse to mix.  Add the butter and pulse until it is the size of small peas.  Sprinkle on the ice water and pulse just until the pastry starts to come together .  Turn the pastry out onto a lightly floured work surface and pat it into a disk.  Wrap in plastic and refrigerate for 2 hours, or until firm.

Line a large baking sheet with parchment paper.  On a lightly floured work surface, roll out the pastry to a 14″ round about 1/8″ thick.  Fold the pastry in half and transfer it to the prepared baking sheet.  Unfold the pastry and refrigerate for 15 minutes.  (Can be refrigerated for up to 2 days.)

MAKE THE FILLING:  Preheat the oven to 375F.  In a large bowl, mix the 1/4 cup of sugar with the lemon zest and flour.  Fold in the blueberries and lemon juice and let stand for 15 minutes.

Spoon the blueberries in the center of the pastry, leaving a 1 1/2″ border all around.  Fold the pastry border up and over the blueberries, pleating it as necessary.  Brush the egg white on the pastry and sprinkle with sugar.  Bake for about 55 minutes, until the pastry is golden brown and the filling starts to bubble.  Transfer the baking sheet to a rack and let the tart cool to warm.  Cut into wedges and serve warm or at room temperature.

Serve with lemon or vanilla ice cream.