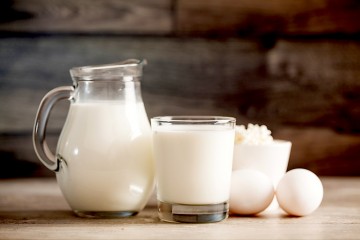 This is the story of a Jeanine Doody, a nurse practioner, and mom of 5 who is passionate about farm, fresh food.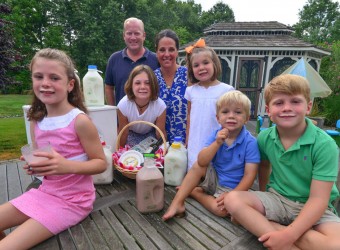 I'm not a person that buys everything organic, but I do consistently buy organic milk. We drink a ton of milk and the hormones and pesticides in regular milk are unsettling to say the least. Last week, I arrived at the milk aisle to find that the organic milk was sold out. Out of desperation, I settled for non-organic milk. That night at dinner, after taking a few sips, I couldn't put my finger on it, but it didn't taste as good as the organic milk I was used to. It was flatter and lacked richness and depth. I was shocked when my 3 kids noticed the difference too. I always knew that the organic milk was healthier, but I hadn't noticed a difference in taste until I had something to compare it to.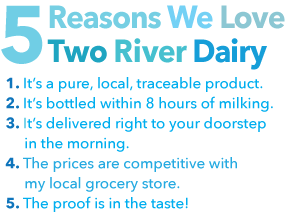 Jeanine Doody is passionate about food: good, healthy farm-fresh food. She believes that if healthy options are as accessible to folks as the unhealthy ones (like grabbing dinner at a drive-thru) that people will opt for the healthy choice. You just have to make the healthy choice easily accessible. So that's what Jeanine decided to do. Her company, Two River Dairy, couldn't make it any easier to choose the healthy route. Imagine having fresh bottled milk delivered right to your door first thing in the morning.
When Jeanine was living in Bedford, NY, she grew accustomed to fresh, bottled milk that was delivered right to her doorstep. But when her family of 7 (yes, 7!) relocated to the Two River region of Monmouth County, she searched for similar services without success. As she began asking around, she discovered many other folks who were also searching for freshly delivered dairy. After many evenings sitting at the kitchen table with her husband Chris, the two of them decided to take the leap and to do something that would benefit her family, as well as their community.
"My husband and I have had a child every odd year since we were married!" Jeanine told me laughing, 5 children total. "We joke that in 2015, we gave birth to our 6th child: Two River Dairy."
Once Jeanine committed to the idea of starting a milk delivery service in her area, the next step was the time-consuming process of actually finding the product. She was on the hunt for glass-bottled, hormone-free, pesticide-free and insecticide-free milk: a tall order.
"I kept coming back to the same family farm: Battenkill Valley Creamery in Salem, NY, because of their farm, their cows, their bottling facilities, and–most importantly–their family values," Jeanine explained. She believed in their product and felt a true sense of trust in their farm. "Their farmers have raised every cow on that farm. They know their animals. The cows are grass fed in combination with farm grown corn. They graze on their land. It's a very pure product." In fact, their milk is bottled within 8 hours of milking! Another plus: their small vat pasteurization process leaves more of the milks enzymes untouched which aids digestion.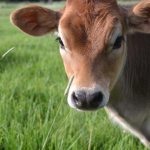 Once she had the dairy farm in place, she was able to start taking orders. Initially, her customers came to her via word of mouth and through her closed Facebook site. The next hurdle was getting the milk to her customers.
"I wanted to have it delivered first thing in the morning so that people didn't have to worry about waiting around for the delivery. So initially, I actually delivered the myself–in the middle of the night!" It was important to Jeanine to guarantee that her customers would have fresh milk on their doorstep first thing in the morning.
"Things just started falling into place," Jeanine explained. "People started hearing about me and calling me the 'Milk Mom.'"
Jeanine was welcomed into a community of farmers that farmed practically in our backyards. She began to expand still only carrying products that are truly farm fresh: pure, local and traceable in the local area.
Her relationship with Battenkill connected her with the family at Dryer Farms. The Dryer family has been farming for four generations. They now provide Jeanine with produce and baked goods that are out of this world.
Doublebrook Farm, a sustainable meat farm, supplies Two River Dairy with beef and pork. Owners Robin and Jon McConaughy were not born into a farming family. Originally, the McConaughys started the farm for their own consumption and to their family more connected with the land.
George Rude of Griggstown Farm supplies poultry. His birds are completely natural: free of growth hormones and antibiotics and allowed to range freely without overcrowding.
You know the saying: if you want to get something done, ask a busy person? That's Jeanine. Besides being a mother of 5 children under the age of 10 (I'm still digesting this!), she is also a nurse practitioner. And to speak with her, you hear this inner calm. Somehow, she is able to beautifully juggle all of this without sounding the least bit frazzled. I think it's because she is truly happy doing what she is doing right now. She is pursuing a dream that benefits her family, her community and the environment. It's very rewarding work, indeed.
So, I have this quirky things that if I have the basics (milk, eggs and bread) in my house that all is ok in the world. I have choices and we will not starve. To take comfort in knowing that someone is always going to deliver fresh eggs and milk to my door 4 mornings a week would give me such peace of mind. (Jeanine, Ridgewood needs you!)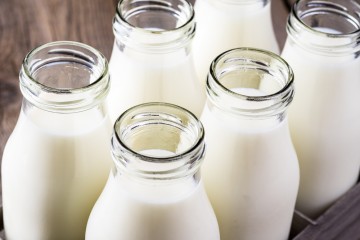 Two River Dairy delivers to Rumson, Red Bank, Little Silver and Shrewsbury. But you will be happy to know that it is now expanding north to the areas around Summit, Westfield, Madison and Chatham. When you check out their website, I think you'll be surprised how competitive their prices are. A half-gallon is $4.25. You can make one-time orders or you may want to place orders that recur weekly. There is a small weekly delivery fee of $4.00, which is waived for customers spending $35.
To find out more about Two River Dairy and start getting your delicious deliveries, visit: tworiverdairy.com