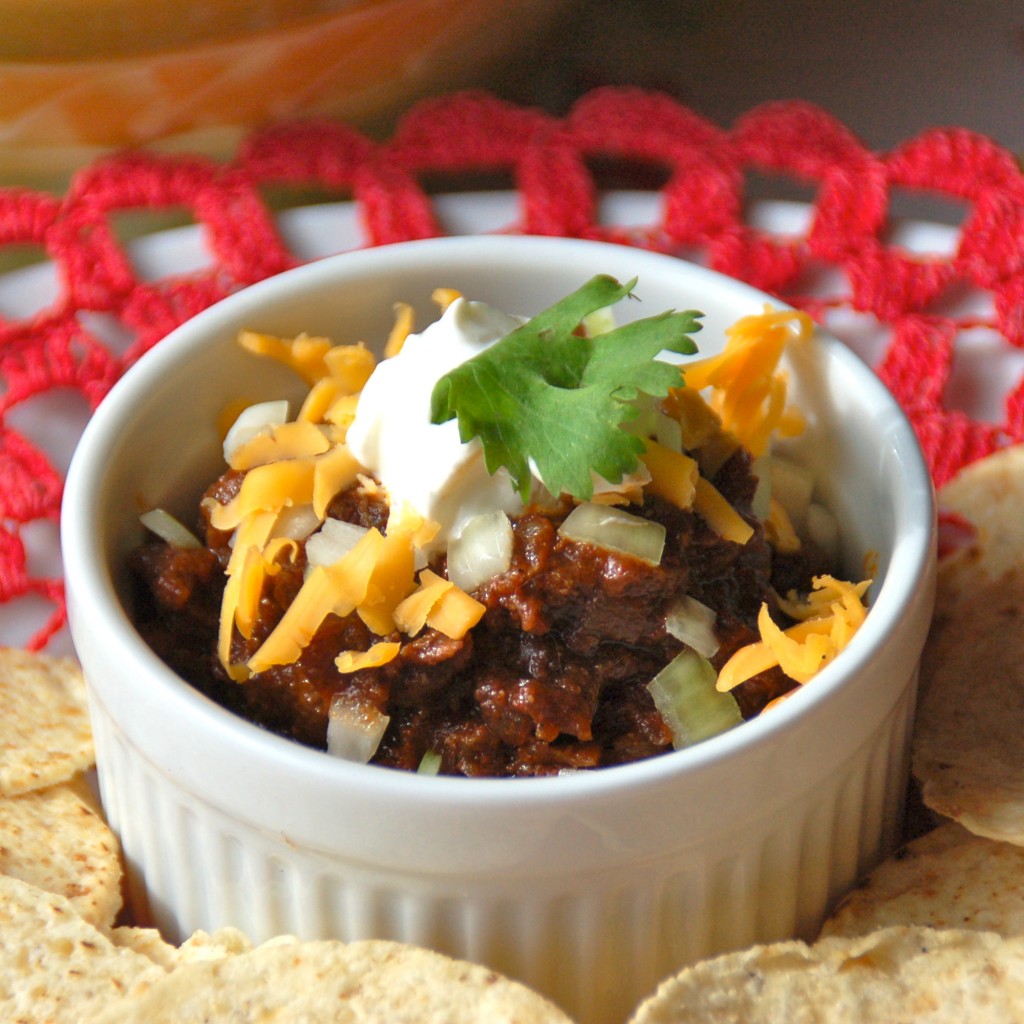 prepared by and photo by Emily S. Downs

My Texas Chunk Chili delivers quite a sting!  The meek and mild beware.  For all of you tough cowgirls and cowboys out there I still recommend a pint of milk be served along side to help cool down this chili's effect.

Size:

serves 6-12



Ingredients:
2 1/2 lbs beef chuck or beef round
3/4 lb diced onion
2 garlic cloves, minced
Bottle of your favorite beer (drink the rest...)
8 ozs tomato puree
2 cups beef broth
4 1/2 ozs can diced green chiles
1 medium jalapeno pepper, minced
1 tbsp chili powder
1 tbsp chipotle chile powder (McCormicks brand at most supermarkets)
1 tbsp dried oregano
1 tbsp dried ground cumin
1 1/2 tsp salt
Sourdough bread
Garnish with shredded cheddar cheese, chopped onion, sour cream and jalapeno rings



Directions:




Trim beef and cut into 1″ cubes.  Season with salt and pepper.

Heat oil in a pan over medium-high heat.  Add the beef and brown on all sides (do in portions so you are cooking a single layer at a time).  Once browned, remove and reserve.

Add the onions and garlic to the pan and cook over medium heat.  Stir ever so often until onions become a deep brown, about 10-12 minutes.  Add a little of the beer to deglaze the bottom of the pot (do what you have to do with the rest).

Add the tomato puree and broth and bring to a boil.

Return beef and any juices it released, chiles, jalapenos, chili powders, ground cumin, oregano and salt to the pan and bring to a boil.  Reduce heat to simmer and cover pot so that just a small opening occurs to let steam out.  Simmer for 2 hours, or until meat is tender.  Check on the chili every 20 minutes or so, stirring and skimming the fat along the way.

Serve with sourdough bread and toppings (cheese, onion, sour cream and jalapenos).