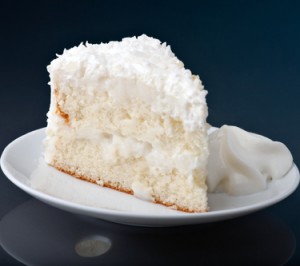 Jazzing up a store bought boxed-cake speeds up the process of making this beauty.  Difficult not to sneak in late night for a second slice.
SIZE: 10-12 servings
INGREDIENTS:
CAKE
1 18.5 oz package butter recipe golden cake mix
3 large eggs
1/2 cup (1 stick) unsalted butter, room temperature
1/3 cup sweetened cream of coconut (such as Coco Lopez)*
1/3 cup water
1 tbsp dark rum
FROSTING
2 sticks of butter, softened
1 1-lb box confectioner's sugar
1/2 tsp salt
1/2 tsp vanilla extract
2-4 tbsp sweetened cream of coconut (such as Coco Lopez)
1 10-oz package sweetened flaked coconut (about 3 cups)
DIRECTIONS:
CAKE: Preheat oven to 375F.  Butter and flour two 9″ diameter cake pans.  Combine all 6 ingredients in large bowl.  Using electric mixer, beat mixture on low speed until smooth.  Increase speed to medium and beat 4 minutes.  Divde batter between prepared pans.  Bake cakes until tester inserted into center comes out clean, about 25 minutes.  Cool in pans 10 minutes.  Cut around cakes to loosen; turn out onto racks.  Cool completely.
FROSTING: Put the confectioner's sugar in a food processor along with the butter, salt and vanilla; process until creamy and fully combined, 30-45 seconds.  With the processor running, gradually add enough cream of coconut to reach a spreadable consistency.
When the cake is cool, put the first layer, top side down, on a plate or cake stand.  Spread a third of the frosting on top, all the way to the edges, and sprinkle with 3/4 cup shredded coconut.  Put the other layer on top, flat side down.  Spread on another third of the frosting, and use the rest to cover the sides.  Press the remaining  coconut onto the top and sides of the cake.  Cover with wax paper, and store at room temperature for up to 2 days; covered with plastic wrap, it will last an extra day.
* Cream of coconut is available in the liquor section of most supermarkets.