February 11 and 12, help put the hilarity in charity with hundreds of crazed runners taking to the streets in celebration of their fundraising for the Children's Tumor Foundation. Last year Cupid's raised over $3.5 Million to #EndNF (End Neurofibromatosis)!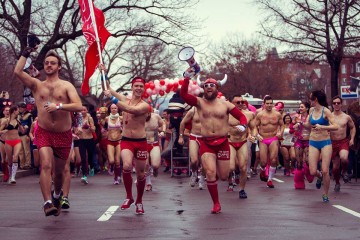 Cupid's is a 1 mile fun run that you can run at your own pace followed by a party. As yes, they encourage you to run…in your undies. Of course, that part of it is not for everyone. Either way, come out, have fun and raise some money for NF research! For each friend you sign up, Cupid will give you $25 towards incentives and they'll get 25% off their registration fee.
Noon– Doors Open & Party Starts!
1:00 PM–Awards Ceremony
2:00 PM– UNDIE RUN

3:30 PM

– Earned "Open Bar" Closes
4:00 PM– Bag Check Closes and Cupid's Officially Ends!
February 11 & 12, 2016  •  11-1 pm and 4:30-6:30pm both days
House of Blues, 308 Euclid Ave Cleveland, OH 44114.
For more information, visit: http://www.cupidsundierun.com/city/cleveland/