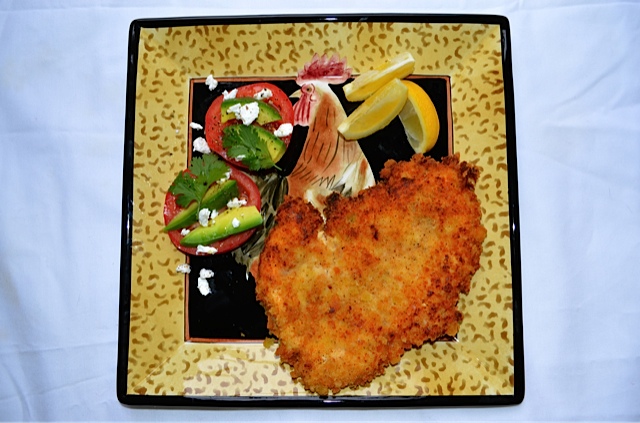 prepared by and photo by Emily S. Downs

Size:

serves 4



Ingredients:
1  1/2 cups nonfat buttermilk
3 tsp salt
1  1/2 tsp freshly ground black pepper
2 boneless skinless chicken-breast
1/2-3/4 of baguette
1/4 tsp cayenne pepper
1 cup extra-virgin olive oil
Lemon (optional)



Directions:




In an airtight container, combine buttermilk, 1 1/2 tsp salt, and 1/2 tsp black pepper.  Set aside.

Working with one at a time, place chicken breast on cutting board, flat side down.  Press down on chicken with palm of one hand and cut in 1/2 horizontally to make two cutlets.  Repeat with other breast.  Using the flat side of a meat pounder, pound chicken between pieces of plastic wrap until about 1/4″ thick.  Add the 4 chicken cutlets to buttermilk marinade.  Chill at least one hour or overnight.

Cut bread into 1″ cubes.  Place bread cubes, 1 1/2 tsp salt, 1 tsp black pepper, and cayenne pepper in the bowl of a food processor and pulse in batches to form coarse crumbs (this should yield 4 – 5 cups).  Spread on a rimmed baking sheet; dry at room temperature for at least an hour or as long as overnight.

Working with one cutlet at a time, dredge both sides of chicken in bread crumbs, pressing firmly to help them adhere.  Transfer to a plate or baking sheet, and refrigerate at least 30 minutes and up to 2 hours.

Prepare another baking sheet with double thickness of paper towels.  Heat 1 cup extra-virgin olive oil in a 12″ skillet (oil should be 1/4 – 1/2″ deep) over medium-high heat;  a breadcrumb should sizzle instantly when dropped into oil.  Gently place  1-2 cutlets in skillet, and fry until undersides are golden brown, 3 1/2 – 4 minutes.  Flip cutlets, and fry until cooked through and golden brown on other side, about 2 1/2 minutes more (chicken should feel firm).  Transfer to paper-towel-lined baking dish and pat off excess oil.  Serve with fresh lemon if desired.