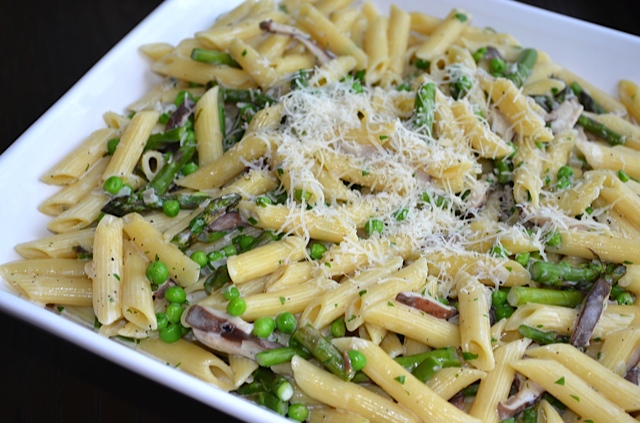 prepared by and photo by Emily S. Downs

Mix it up tonight.  Forget the red sauce.  Try penne with a creamy parmesan sauce tossed with grilled asparagus, mushrooms and petite peas.

Size:

8-10 servings



Ingredients:
1 lb thin asparagus
3 tbsp extra-virgin olive oil, plus more for grilling
Salt and freshly ground pepper
3 medium shallots, minced
3/4 lb shiitake mushrooms, stems discarded and caps thinly sliced
2 1/4 cups heavy cream
1 1/2 lb penne rigate
1 1/2 cups frozen baby peas, thawed
3/4 cup freshly grated Parmigiano-Reggiano cheese
3 tbsp finely chopped flat-leaf parsley



Directions:




Preheat a grill pan.  Brush the asparagus with olive oil and season lightly with salt and pepper.  Grill the asparagus over high heat, turning, until it is lightly charred and very tender, about 6 minutes.  cut the asparagus into 1″ lengths.

In a very large, deep skillet, heat the 3 tbsp of olive oil.  Add the shallots and cook over moderate heat until fragrant, about 1 minute.  Add the shiitake, season with salt and pepper and cook, stirring once or twice, until the mushrooms are golden and tender, about 8 minutes.  Add the cream and bring to a boil.  Simmer until slightly reduced, about 4 minutes.

Meanwhile, in a large pot of boiling salted water, cook the pasta until al dente.  Drain the pasta, reserving 3/4 cup of the cooking water.

Add the pasta to the skillet along with the asparagus, peas and grated cheese and toss well.  Add the reserved pasta water and simmer, tossing, until the pasta is nicely coated.  Season the pasta with salt and pepper and stir in the parsley.  Serve right away.