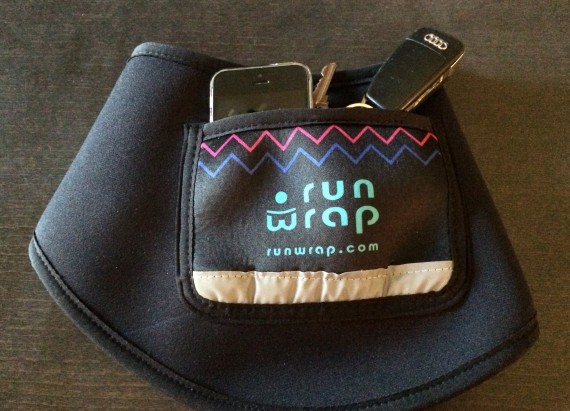 If you know me, you know I'm big into the latest fitness and exercise gear and gadgets and I was lucky enough to try the runwrap recently and I loved it! The best part about this gear is it's not just for runners. Elizabeth Clothier, an avid runner, designed the runwrap and her new take on the run belt is so much sleeker and more comfortable than any running belt I've ever used (and I've tried many).
It's made of soft black flexible neoprene fabric that literally conforms to your body, which subsequently prevents the wrap from twisting, or the contents inside bouncing around during movement. The front fastens quickly and securely with a wide Velcro strip that does not come apart no matter the amount of movement and bouncing (I tried). The back is longer and provides great coverage with a pocket that is flat but perfect for your phone, keys, small water bottle and some cash.
Now as I said this runwrap is a bit misleading because really it is ideal for any number of these "hands free" activities:
Running
Long walks
Short hikes
Dog walking – Perfect to fit the bags, dog treats and a flexible water bowl
Child walking – use the pocket to keep a snack, wipes and of course all their little treasures they pick up along the way
Cycling
Rollerblading
Skipping – Yes, the runwrap stayed put during a 30-minute jump rope workout
Fitness classes – Especially outdoor classes where you may be on the move and not have a secure place to leave your personal items. And FYI – I have used this runwrap during boot camps and other high impact, fast moving workouts. In fact, this runwrap is Burpee – approved!
For Fitness professionals – As a personal trainer the three tools I use for each of my clients is a notebook, pen and stopwatch/timer. Normally I juggle these items while assisting my clients and demonstrating, often forgetting where I put them down. The runwrap is a perfect solution to this problem. If you use a microphone for teaching classes the runwrap can hold the mic and you won't be fiddling with it while teaching (as I have had to do with so many other mics).
And finally, one of the best things about this product – it's designed by a runner, and produced and sold locally.
For more info on this great product and to purchase your own, click here.