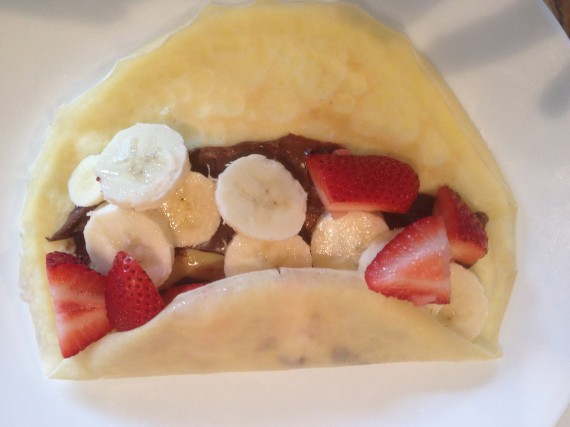 You will need to purchase a crepe maker if you want the crepes to turn out like mine. I grew up making these and the kids love making them on their own. This is a great recipe to try if you want some fun bonding time with your kids. I now buy it as a birthday gift for my daughter's friends. You can add fruit and nutella for breakfast, or ham and gruyere cheese for dinner. Get creative and have some fun!

Size:

It makes around 15 but everyone can eat more than one.



Ingredients:
2 eggs
1 cup all purpose flour
1/2 cup milk
1/2 cup water
1/4 tsp salt
2 tablespoons butter melted



Directions:




Place ingredients in blender container in the order given. Blend 30 seconds, stop and stir down sides. Blend 30-60 seconds until smooth. Or, mix in bowl with wire whisk or mixer, first combining flour and eggs, adding liquid gradually. Beat until smooth; add other ingredients. Makes about 16 crepes. I do it in a bowl with a whisk.

NOTE: Measure flour and liquid carefully, since consistency of batter is important. (It should be about the consistency of thick, heavy cream.) Spoon flour into 1 cup measure and level off with straight edge of knife or spatula.

Add whatever toppings you would like. We use cut up fruit, nutella, whip cream, cinnamon sugar with butter and more.