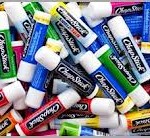 ChapStick… It's a name that is synonymous with lip care, a wax like substance that is applied topically to relieve chapped or dried lips… So simple, yet so effective.  Personally, I can't get enough of lip balms, lip salves, lip gloss… anything to give the appearance of that must have perfectly hydrated pout.  For years I have been trying everything under the sun to achieve such a look, and don't get me wrong… I have found some cult favorites, but recently I found myself out and about with no purse, and dry lips (I know- gasp!)  Out of nowhere, one of my guy friends offered me a simple tube of ChapStick.  At first I was reluctant to take it but lets's face it, I was desperate in the sun with no other choice.  I'd  be lying if I didn't admit how impressed I was by the results of the ChapStick but also that my friend, a typical guy's guy, who doesn't believe in any skin care regimen what-so-ever and thinks that Hawaiian Tropics SPF 4 works not only to protect him from harmful UV rays but also as a moisturizer (God help him) came to my rescue.  It's so tiny that it can fit into any woman's jeans pocket without ever being noticed.  More importantly, when wearing it outside on a windy day your hair doesn't stick to your lips. Lets face it… there is nothing worse than when your hair becomes a greasy mess from clinging to your lip gloss all afternoon.  Trust me, this is no ordinary lip balm… it was smack in the middle of the 1970's Watergate scandal when it was used as a spy tool to conceal microphones during the break-in… and they say beauty is vain 😉
There are so many flavors and protections to choose from you're bound to find the one perfect for you… for me, the iconic  Blue Moisturizer Original
has a soft place in my heart… or should I say lips.