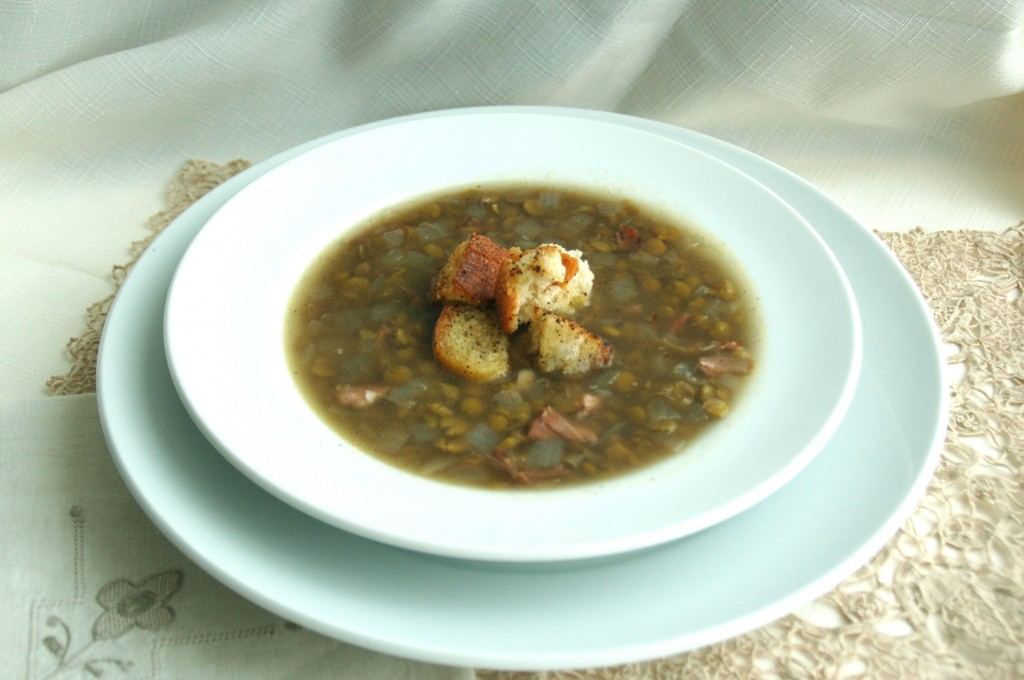 prepared by and photo by Emily Doscher

The ham hocks enrich this soups flavor tenfold.  As it simmers you'll have enough time to sit back and watch a flick… well-deserved!

Size:

8 servings



Ingredients:
1 pound split peas (about 2 cups)
12 cups (or more) water
1 1/2 lbs smoked ham hocks (Fairway Market)
3 medium onions, chopped
1 tbsp chopped garlic
1 bay leaf
1 tsp whole allspice
Hot pepper sauce (such as Tabasco)
Croutons



Directions:




Soak split peas overnight in large pot with enough cold water to cover by at least 3?.  Drain.  Return split peas to pot.  Add 12 cups water, ham hocks, chopped onions, garlic, bay leaf and allspice.  Bring to boil.  Reduce heat to medium and cook until split peas are tender, stirring occasionally and adding more water as necessary if soup becomes to thick, about 2-2  1/2 hours.

Remove ham hocks from soup and cool slightly.  Cut skin and fat from ham hocks and discard.  Cut meat from bones and return meat to soup.  Season soup with hot pepper sauce, salt and pepper.  (Can be prepared 1 day ahead.  Cover and refrigerate.)

Bring soup to simmer.  Ladle into bowls.  Sprinkle with croutons and serve.