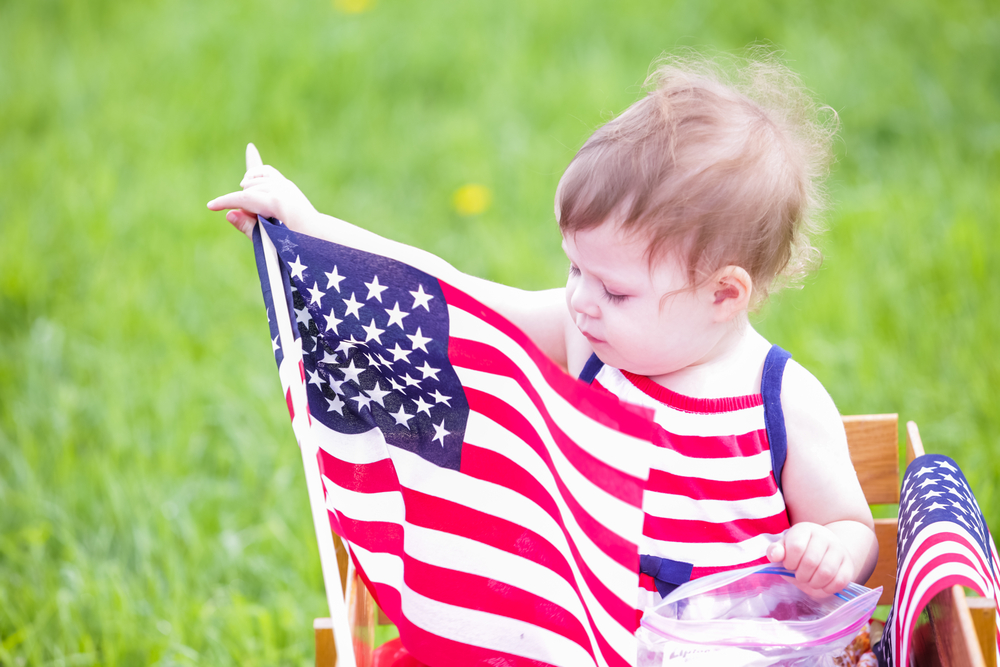 We learned the hard way when we celebrated our son's first 4th of July that what parents might have in mind as an awesome 4th and what a baby or toddler can tolerate are clearly two very different things. Now that my kids are five and seven I thought I would share a little bit of wisdom from my own mistakes in the trenches to help you enjoy a safe and happy 4th for the whole family.
1. Unless you KNOW that your littles can tolerate noise and crowds avoid large fireworks displays until late preschool age. Not only will the fireworks scare them but the crowds can be overwhelming. If you do decide to brave the crowds I highly recommend lots of bug spray, snacks, water and yes, if you are potty training, a baby potty in a bag you won't mind throwing away after the event.
2. Try to keep your outings to the morning and evening hours. July is hot in most states especially here in the South. Many towns have kid friendly events in the morning hours such as parades where the kids can decorate their bikes and tricycles and be a part of the action, bounce houses, fishing contests and more, all over before the sun gets to be too much for them.
3. Consider spending 4th of July at home and having a get together with family and friends. Go old fashioned and make some home made ice cream and put some hot dogs on the grill. If your town permits it, let off fireworks in the street just after sundown and your littles will be happy and in bed at a reasonable hour.
4. Don't let little ones play with the sparklers. I know, this sounds like a killjoy recommendation but nothing ruins a 4th of July more than third degree burns on tiny fingers.
5. Splurge for that cute red, white and blue outfit or dress with the giant and adorable hair bow and take a ton of photos of them covered in homemade ice cream or ketchup or just running through the sprinklers. You're making memories by being together as a family and that's the most important part of any holiday. Relax and enjoy the spills, the stickiness and just take it all in. These days will be over before you know it.