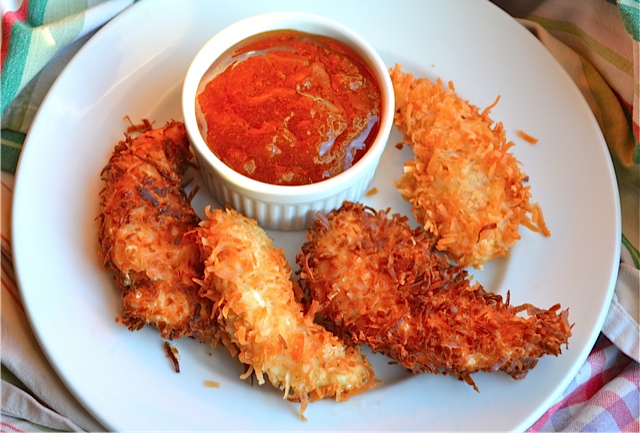 prepared by and photo by Emily S. Downs

Kick-up your chicken tenders a notch with a healthy portion of Cayenne pepper encased in a coating of crunchy coconut.  The sweet yet spicy flavors of the apricot dipping sauce only intensifies this culinary experience.

Size:

makes 6 servings



Ingredients:
SPICY APRICOT DIPPING SAUCE:
1 cup apricot preserves
1 tsp crushed red pepper
1 tbsp red wine vinegar
CHICKEN:
1/2 cup Argo Corn Starch
3/4 tsp salt
1 tsp Cayenne pepper
1/2 tsp ground black pepper
3 egg whites
2 cups coconut, shredded, sweetened
1 1/2 lbs chicken tenders
Oil, vegetable (for frying)



Directions:




SPICY APRICOT DIPPING SAUCE:
Combine all dipping sauce ingredients in saucepan; heat through.  Set aside until ready to serve.

CHICKEN:
Mix corn starch, salt, cayenne pepper and black pepper in shallow bowl; set aside.

Beat egg whites in medium size mixing bowl until frothy.

Place coconut in a seperate shallow bowl.

Dredge chicken tenders in corn starch mixture; shake off excess.  Dip chicken in egg whites, then press chicken into coconut.  Turn over and press into coconut again to coat both sides.

Heat deep-fat fryer to 350F (I don't have a deep-fat fryer, so I use a Dutch oven, with 3″ oil).  Add chicken to the hot oil in batches.  Deep fry until cooked through, about 2 to 3 minutes.  Drain.  Serve hot with Spicy Apricot Dipping Sauce.