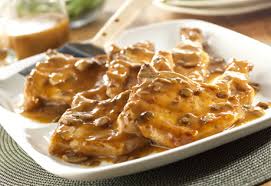 All my kids and at least 10 of my nieces and nephews choose this as their birthday dinner every year. It was one of my mother's go to dinner recipes, and the smell of it reminds me of home.

Size:

6 servings



Ingredients:
3lbs boneless chicken breast
3 cans Campbell's Golden Mushroom Soup
White Rice (I like Basmati)(you can also use light brown rice)
flour, vegetable oil and butter-can use gluten free flour



Directions:




Cut each chicken breast into about 3 or 4 pieces.
Dust all sides with flour.
In a dutch oven or deep frying pan, mix 1 tablespoon butter and 1 tablespoon vegetable oil.
Saute chicken over medium heat until lightly browned on all sides.
Lower heat to simmer.
Pour 3 cans of soup and 2 cans water into pan.
Cover and simmer for anywhere from 30 minutes to 2 hours.
(It's great when you have to serve at different times to different kids.)
Meantime, make rice according to directions on package.
Serve chicken and gravy over rice.