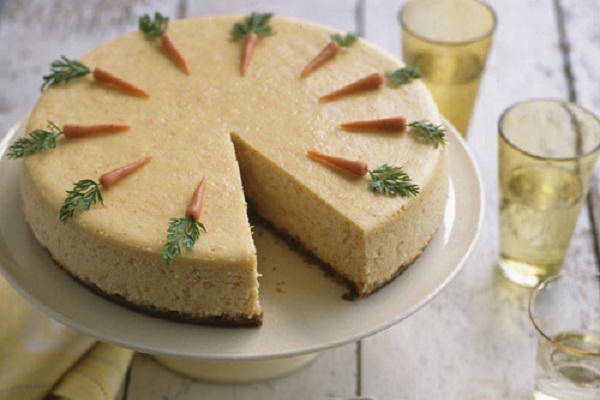 marthastewart.com

I couldn't resist sharing Martha Stewart's Carrot Cheesecake recipe. It incorporates all of the elements of a carrot cake yet also those of a cheesecake, delivering one heck of a pretty package. Each bite satisfies a different part of your palette. Get the kids involved with trying to create the marzipan carrots!

Size:

serves 8-10



Ingredients:
CRUST:
2 oz (1/2 cup) toasted pecans
8 graham crackers, finely ground (1 cup)
2 oz (4 tbsp) unsalted butter, melted
3 tbsp sugar
1/4 tsp salt
CHEESECAKE:
1/2 oz (1 tbsp) unsalted butter
2 medium carrots, peeled, finely grated
1 1/2 cups sugar
4 packages (8 oz each) cream cheese, softened
4 large eggs, room temperature
1/2 tsp freshly grated nutmeg
1/2 tsp ground cinnamon
1 tsp freshly grated ginger (recommend as compared to dried)
1/4 tsp salt
1 1/2 tsp pure vanilla extract
Petite Marzipan Carrots (optional)
PETITE MARZIPAN CARROTS:
1 oz marzipan
Orange and red food coloring
Unsweetened cocoa powder, for decorating (lines in carrots)
Small fresh herb greens, rinsed and dried (ie... parsley, dill, baby carrot fronds...)



Directions:




CRUST: Preheat oven to 350F. Pulse pecans in a food processor until finely ground. Place in a medium bowl with graham crackers, and stir in butter, sugar, and salt.

Wrap outside and bottom of a 9″ springform pan in 2 layers of foil. Press crumb mixture firmly into bottom of pan. Bake until golden brown around edges and firm, about 15 minutes. Let cool on wire rack. Reduce oven temperature to 325F.

CHEESECAKE: Melt butter in a medium saute pan over medium heat. Add carrots and 1/2 cup sugar, and cook, stirring often, until carrots are soft, 3 to 4 minutes. Transfer with pan juices to a bowl, and let cool.

Beat cream cheese and remaining cup sugar with a mixer on medium speed until fluffy, about 4 minutes. Add eggs, 1 at a time, scraping down sides of bowl as needed. Add carrots and pan juices, nutmeg, cinnamon, ginger, salt, and vanilla, and beat until incorporated. Pour into crust.

Set springform pan in a large roasting pan. Fill roasting pan with enough boiling water to reach halfway up the sides of the springform pan. Bake cheesecake until set but slightly wobbly in center, 80 to 90 minutes.

Transfer springform pan to a rack, and remove foil. Let cool. Refrigerate uncovered, at least 6 hours (or overnight; cheesecake will keep, covered and refrigerated, for up to 3 days). Run a hot knife around edges of cheesecake to loosen, then remove sides of pan. Decorate with marzipan carrots just before serving.

PETITE MARZIPAN CARROTS: Tint marzipan with orange and red food coloring, one drip at a time, to reach desired color. Divide into 12 pieces. (Cover with plastic wrap when not using). Shape each piece into a ball, then roll into logs, tapering 1 end, to resemble carrots.