Trancoso, Brazil is a very small fishing village about an hour south of Porto Seguro in Bahia in northeastern Brazil. It's quite remote, hidden in a lush jungle and set on a cliff overlooking the ocean. But now it's become a hideaway for people like Gisele Bündchen.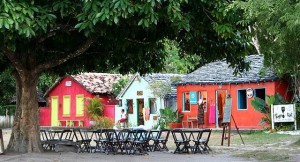 The center of town, called the quadrado, is a grassy square surrounded by brightly colored fishermen's houses, many of which are now restaurants and galleries. There are no cars, only horses grazing in front of the second-oldest church in Brazil, which dates back to 1586. They are very beautiful, very private, and very long, you can walk for hours and rarely encounter more than one or two people. The swimming is excellent, too, since the beach is protected by a coral reef.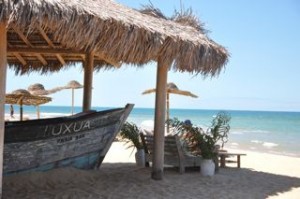 UXUA Casa Hotel & Spa features ten unique casas which blend into the historic center of Trancoso, a small fishing village on Brazil's southern Bahian coast. Four casas are restored fishermen homes on the 16th-century town green called the Quadrado, while six others sit in a lush garden. Two restaurants specializing in traditional Bahian cuisine, a spa, a unique swimming pool of healing aventurine crystals, and a beach lounge created from old fishing boats.