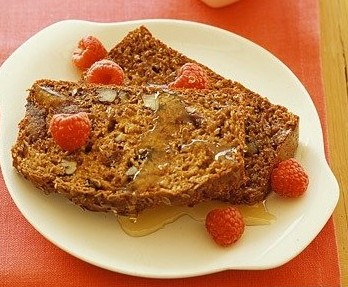 marthastewart.com

Bread baked with wholesome goodness. Loaded with protein and flavor, but low in calories and carbohydrates.

Size:

makes 1 (10 x 5") loaf



Ingredients:
Vegetable -oil cooking spray
1 large apple, such as McIntosh, peeled and coarsely grated
3/4 cup stone-ground whole-wheat flour
1/2 cup unbleached all-purpose flour
1 cup coarse wheat bran
1/4 cup wheat germ
1 1/2 tsp baking soda
1/2 tsp ground nutmeg
1/2 tsp ground ginger
1/2 tsp salt
1 1/4 cups plain nonfat yogurt
1/3 cup applesauce
1/3 cup honey
2 large eggs, lightly beaten
3/4 tsp pure vanilla extract
1/2 cup dried dates
1/2 cup walnuts, toasted and chopped
4 1/2 tsp whole brown flaxseed



Directions:




Preheat oven to 375F.  Coat a 10 x 5″ loaf pan with cooking spray.  Wrap apple in paper towels; squeeze out liquid.

Whisk together the flours, wheat bran, wheat germ, baking soda, spices, and salt.

Stir together apple, yogurt, applesauce, honey, eggs and vanilla with a rubber spatula in a large bowl. Fold in flour mixture. Fold in dates and nuts. Pour into pan. Sprinkle with flaxseed.

Bake until a cake tester comes out clean, 50-55 minutes. Let cool in pan on a wire rack 15 minutes. Un-mold.  Slice.