At only 9 years old, Chloe R. Fernandez is a published author, model and actress. She has written a script for a TV show. She also came up with an idea for a health app. She accomplished this while suffering from primary ciliary dyskinesia (PCD). PCD is a rare form of lung disease. It is an incurable genetic disorder that attacks the cilia, tiny hair-like structures that line the airways, ears and sinuses, keeping them clean and clear of infections.  People with PCD have a higher risk of infections in their lungs, ears, throat and sinuses that can result in serious and permanent damage.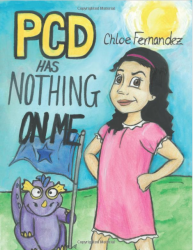 Because of her illness, she has had to be home-schooled and cannot be as active as other children. Through her loneliness and sadness, she would write in a journal detailing how she coped with her illness. She had the idea to write a book based on her journal entries so she could advice to other children living with a chronic illnesses. With help from Make-A-Wish NJ, Chloe published her book, PCD Has Nothing on Me. Her illustrator and editor donated their services making this huge accomplishment possible. One of her most exciting moments was when she received a letter from First Lady Michelle Obama congratulating her! To read more about Chloe, go to latina.com
To order a copy of Chloe's book go to PCD Has Nothing on Me.