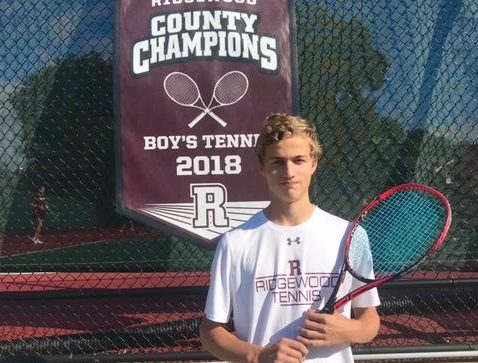 Register for Tennis is for Everyone here.
Ridgewood High School sophomore, Andrew Swanson, cannot imagine a life without sports. It keeps you fit; helps with concentration and stress management; and is a fun way to hang out with friends. Andrew believes that everyone should have a chance to make their mark on the court.
With that in mind, he worked alongside the Wheelchair Sports Federation for the past year organizing an event that makes court time possible–even from a wheelchair–to create Tennis is for Everyone, a wheelchair tennis awareness and fundraising event. When someone has a disability that requires them to use a wheelchair, the opportunities for court-time can be very limited due to the exorbitant cost of an athletic wheelchair.
"Personally," Andrew told Tips, "I can't imagine not having sports in my life. My hope has been to help physically disabled persons play a game they love by fundraising for athletic wheelchairs."  The wheelchairs can also be used for basketball or any other wheelchair adaptive sport.
"I watched wheelchair tennis at the U.S Open in Arthur Ashe stadium and traveled to Cherry Hill, NJ to volunteer as a ball boy for a USTA wheelchair tennis tournament. When I watch wheelchair tennis, it just feels like tennis.  The players never have a handicap or any limitations.  The wheelchair just fades.  I am always in awe of great play and great athletes."
The idea for the fundraiser came to him when he was pursuing his Congressional Award. He volunteered for Veterans groups in Paramus and Oakland. While there, he met Mr. John Hamre of the Wheelchair Sports Federation, a national non-profit organization that provides opportunities for the disabled and wheelchair-bound adults and youth to play sports recreationally and competitively.
"Mr. Hamre is amazing," Andrew told us. "He volunteers his time to organize adaptive wheelchair leagues and tournaments.  I learned that athletic wheelchairs used for tennis, basketball and other wheelchair adaptive sports are incredibly expensive. They can run anywhere between $2,000 to $10,000. And travel to tournaments where these athletes have a chance to get ranked nationally is also expensive. I wanted to find a way to give them the gift to play sports competitively. "
So, he set his sights on fundraising for physically disabled individuals who were in the greatest financial need and began working with Wheelchair Sports Federation. In addition to fundraising, he also hopes to increase awareness of wheelchair sports and the amazing athletes who participate.
Besides organizing this event, Andrew is also an active volunteer with the Paramus Veterans Home, Oakland Marine Corp, and USTA wheelchair tennis tournaments.
Wheelchair Tennis is practiced in more than 100 different countries. It follows able-bodied rules with one exception – the ball is allowed to bounce twice. It originated in 1976 by American Brad Parks and it became a major competitive international sport.
Andrew is asking for your help to make the "Tennis is for Everyone" event successful. See how you can help below.
4 WAYS YOU CAN HELP:
1. Attend the Saturday Event.
Click for more info on how to register.
2. Donate.
Make checks out to Wheelchair Sports Federation and mail to: Andrew Swanson, 179 Claremont Road, Ridgewood, NJ 07450.
3. Make a Corporate Donation.
Email andrewswanson3688@gmail.comfor more info.
4. Help spread the word.