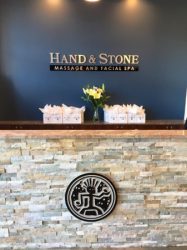 A couple of weeks ago I was fortunate enough to enjoy an evening of pampering at Hand and Stone Massage and Facial Spa located at 302 Merrick Road, in Rockville Centre. The manager, Jessica was very attentive and a  complete medical history was taken before I had my services. I was fortunate enough to meet Aryian who gave me a stellar 50 minute massage as well as Samantha who thoroughly explained the importance of taking care of my aging (gasp) skin! Samantha was super friendly and gave me the best facial of my life! My experience was absolutely lovely and thank God I lived close by because when I was done I was ready for a nice, long nap! Below, please find an interview with the owner of the Spa, Jennifer Woods:
Who is the clientele you're trying to reach?
Everyone and anyone! We offer a wide array of massages, facials and advanced skin treatments — each of which we customize to meet our client's individual needs. Whether you're looking to soothe tight muscles, smooth out fine lines, erase acne or simply enjoy a little much-needed R&R, we have something to offer everyone.
How does your spa differ from the other spas in town?
Hand and Stone is unique in a variety of ways. Similar to luxury spas, our beautiful and serene facility offers an extensive menu of treatments, from basic massages and waxing services to exceptional facials, LED phototherapy and microcurrent technology. However, unlike other luxury spas, we offer our services at a significant discount in order to make our services available to everyone. We also strive to accommodate our clients in every possible way, offering extended hours every day, curbside pickup for customers who purchase gift cards; We even fill our client's meters while they're in service!
What is the biggest complement that you've received from a client
Several of our clients have told us that they instantly relax when they walk through our doors. That is exactly what we're striving for! We want our spa to be an temporary oasis for our clients, giving them a chance to relax and escape from the hustle and bustle of daily life, even for an hour or two.
Why do you feel this town is a good fit for your business
Rockville Centre is a town that thrives on it's small businesses. From florists and gyms to restaurants and shops, RVC residents are great patrons of this community! The residents here truly care about the town, choosing to frequent the local businesses and forge lasting relationships. In the year that we have been open, we've been very fortunate to meet so many people from the community, residents and fellow business owners, who have welcomed us with open arms. 
How does Hand and Stone plan to reach the community?
We've done a great deal of advertising geared toward the local community, including direct mail postcards, ads in the Rockville Centre Herald, emails, Facebook posts and more. While advertising has been helpful in letting people know we're here, word-of-mouth remains our best marketing tool! Many of our clients have come in through referrals.
What are your specials for Valentine's Day?
Spa gift cards make a fantastic gift and this year we're offering some great deals! Our members receive 40% off gift cards plus they receive a $20 gift card for every $100 that they spend on gift cards. All of our other guests will receive $10 off a massage or facial gift card and $25 off spa packages. In addition, our clients who chose to celebrate Valentine's Day with us (by booking a treatment the weekend before, the weekend after, or the day of) we are pampering them with champagne, chocolates and more!
What are some tips you can give clients looking to relax and unwind on a daily basis
Take time for yourself! So many people feel like they're being lazy or selfish when they take a little time to relax. That should not be the case! Between the crazy schedules and constant bombardment by calls, texts, emails, it can be almost impossible to "shut down". But you need to, for the sake of your body and your mind. You'll find that when you do allow yourself to take that time, even if it's just 15 minutes here or there, you'll be a better version of yourself. So whether it's going for a walk, taking a bath, or getting a massage make sure you're carving out some "me" time.
We couldn't agree with Jennifer more! Take some time out to visit Hand and Stone Massage and Facial Spa – and tell them Thea from Tips From Town sent you!