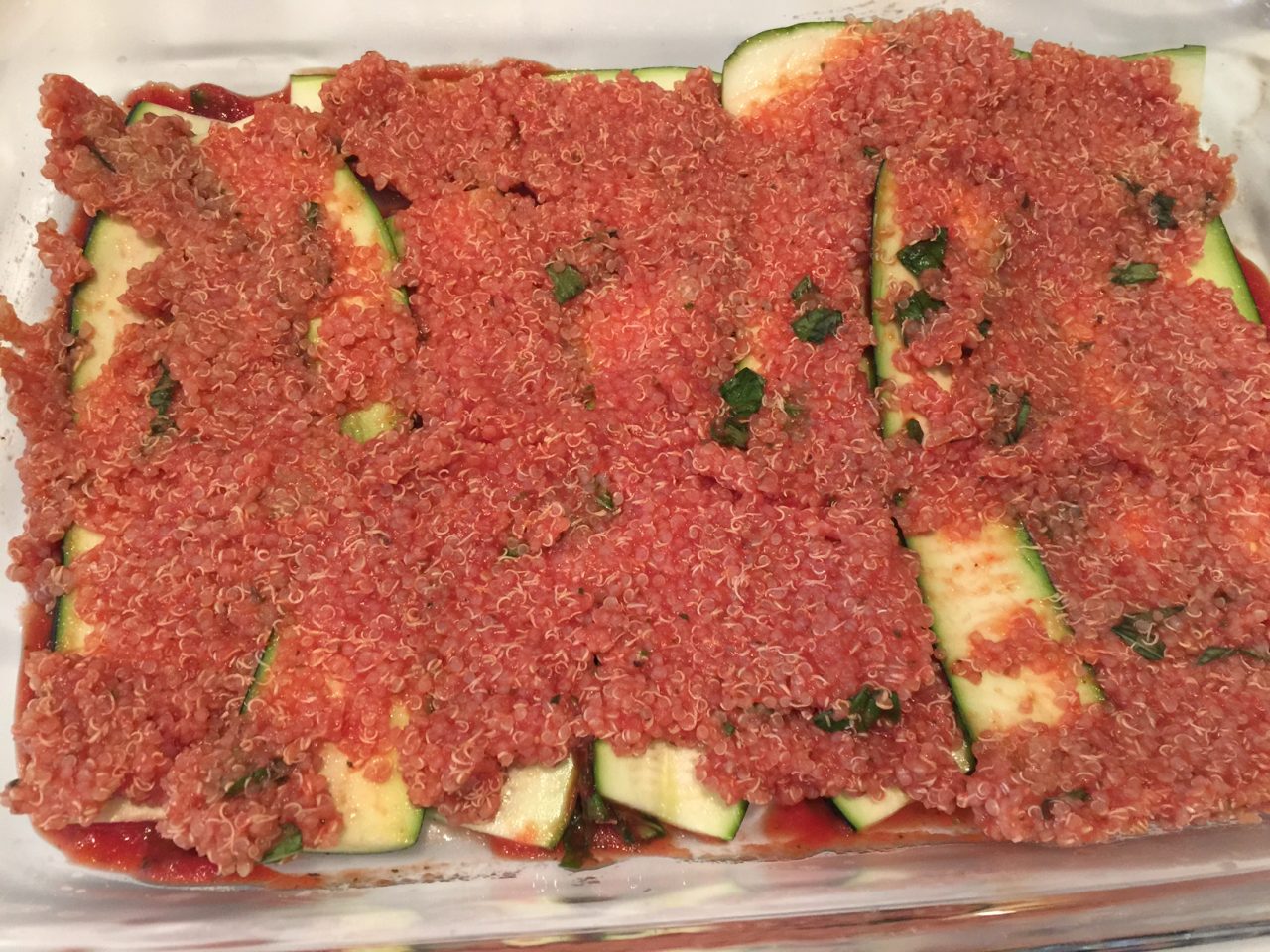 This is simply better than any gluten lasagna. My husband had three servings and said he would eat this any day over regular lasagna. You can also buy a jarred clean sauce that has no added sugar and then skip the sauce part of the recipe.

Size:

Serves 6 depending on how much you eat



Ingredients:
2 pounds of zucchini-sliced thin lengthwise
1 1/2 cups quinoa uncooked, rinsed and then cooked-set aside
1 and 1/2 cans of tomato sauce(15 oz. size)
1/4 cup chopped fresh basil, plus more for topping
1 teaspoon dried oregano
1 ball fresh mozzarella
crumbled goat cheese
shaved parmesan cheese
salt and pepper to taste



Directions:




Cut the ends off of your zucchini and slice it length wise into the shape of lasagna noodles. If your zucchini are exceptionally large, you may need to cut it in half width wise first.  Lay the zucchini on a clean towel and sprinkle with salt.  Let them sit while you prepare the quinoa.  This draws the water out of the zucchini so your final dish isn't too watery. I did this one time and not the other and it was fine both ways.

Place the quinoa and water in a small saucepan and bring to a boil.  Reduce the heat and cover.  Allow to simmer until the water is absorbed, about 12-15 minutes.

In a small bowl, combine the tomato sauce, basil, and oregano. Reserve about 3/4 cup of this and add the rest to the cooked quinoa. Taste and add salt and pepper to taste.

Spread 1/4 cup of the reserved tomato sauce to the bottom of a 9×13 glass baking dish.  Then add a layer of the zucchini noodles.  Top the zucchini noodles with half of the quinoa mixture.  Top this with the crumbled goat cheese. I just had a small container of goat cheese. Add another layer of zucchini noodles and top with the rest of the quinoa mixture. Add a layer of the shaved parm.  Add one more layer of zucchini noodles and top with the rest of the tomato sauce and fresh mozzarella cheese.

Bake, covered, in the preheated oven for 30 minutes, until the zucchini is tender and the cheese is melted.  If you'd like to brown the cheese, turn on the oven's broiler for the last few minutes of cooking time.  Top with the basil strips, if desired. Enjoy!