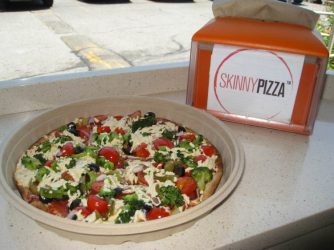 Recently I was asked to run to the Roosevelt Field Mall and be the walking "second opinion" on a girlfriend's "must have" dress for a very special date.
After hitting the racks at Nordstrom and shuffling through dresses at Bloomingdales, it occurred to me that rather than squeezing ourselves into Spanx and the like, just to be able to wear a Herve Leger "bondage" dress to impress a man a half a decade younger than ourselves, maybe, just MAYBE a change in lifestyle was in order. I told Lauren that starting that very moment I was joining her fierce exercise regimen and taking better care of my (over-forty-declining) body. Now, even though in my mind I was doing jumping jacks, in my belly I heard the bellow of the beast.
We had been shopping for HOURS and I was starving. Now, after having declared a "new me" and new approach to my health and well-being, how on earth could I drag her up to the food court?! I couldn't. Instead, I told her we would venture out of the mall and find a nice salad bar somewhere. My hunt for a salad bar was quickly dismissed upon seeing SKINNY PIZZA! I was familiar with this particular restaurant because I gratefully stumbled on it in Roslyn Heights. Skinny Pizza claims "pure goodness" and that is what it absolutely delivers. All of their sauces are 100% natural, the pasta is cholesterol-free, egg-free, low in sodium and high in flavor! I could not wait to introduce Lauren to Skinny Pizza. The crust is about as thin as a matzoh, and the greens are so fresh they beat any salad bar I could have found.
As we sat there and chatted about the fabulous dress Lauren FINALLY found, (and helped ourselves to a second slice of Skinny Pizza), it was comforting to know that not only was I enjoying my meal, but it was actually part of my plan -a plan to include "pure goodness" into this temple I facetiously call a body. Now, we shall see how long this new attitude lasts!