Is watching "Chopped" your guilty pleasure?  Never miss an episode of "Cutthroat Kitchen" or "Diners, Drive-Ins and Dives?"  If the answer is "yes," then you are a Food Network aficionado.
You'll also know that The Food Network loves to compile lists of "The Best Of…."   They've ranked pizza places, taco shacks, barbecue joints, and truck stops to name just a few.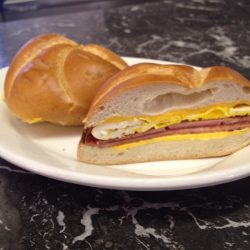 Recently, The Food Network published a state by state listing of the best breakfasts in the USA.  They traveled to 50 states to find the best of the best.  "50 States, 50 Breakfasts" is a mouthwatering journey across America showcasing dishes like Hawaii's Ahi Steak and Eggs from Eggs n' Things  in Honolulu and Idaho's Oatmeal Souffle from a restaurant in Boise.  Alaska's best breakfast?  Yes; a Reindeer Sausage Omelette from a breakfast spot in Anchorage.
But what was chosen as Best Breakfast in New Jersey? If you live in Summit you won't be surprised by the Network's choice for "most important meal of the day" – the Taylor ham, Egg and Cheese from the iconic Summit Diner.  Although they incorrectly call this delicacy a "Slider From Summit Diner" (give them a break; they're probably not native Hilltoppers) everything else they have to write about New Jersey's favorite sandwich is spot on: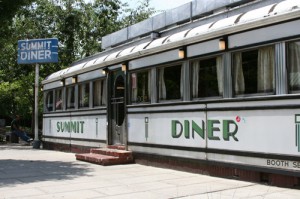 "New Jersey has more diners than any other state in the country, and the Summit Diner, set in a 1930s railroad car, is one you can't miss. It's home to the state's gold-standard egg sandwich: a locally baked kaiser roll piled with eggs, American cheese and Jersey's own Taylor ham, a salty, spiced, salami-like meat, also known as pork roll."
So what are your thoughts?  Think the Summit Diner's Taylor ham, egg and cheese represents New Jersey's best breakfast?  An unofficial vote in my house was a unanimous YES!