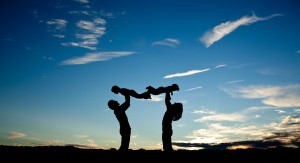 I had been searching around for a family photographer to capture an image of my girls. This happens to be an in-between moment when none of my three daughters have braces on their teeth, so it seems like a good time for a professional photo. Most years, I do my very best to take a family picture during summer vacation, to varying degrees of success. There's always one sacrificial lamb, a daughter looking in the wrong direction, or blinking or scowling, but I figure that 2 out of 3 is not bad. My photos always look a bit stiff and posed, as if I've bribed them to stand there and look 'happy' … which, I have.
In my quest for a professional photographer, Lena's name kept coming up. live.love.laugh. photos is her company, (I even like the name). After a look at the incredible, natural-looking images on her website, I knew that I had to meet her. So, I sat down with Lena and got the scoop on live.love.laugh.photos
Tell me a bit about what you do:
I am a professional natural light lifestyle family photographer.  I work purely with natural light because it helps create the most flattering and natural looking images.  Also, you won't have flashes blinding you at my photo sessions, which helps keep the session more relaxed and natural – so you can be yourself. The 'lifestyle' part means that I focus on capturing real moments instead of posed-look-at-the-camera-and-say-cheese images.  I document a snap shot of your family life – sweet relationships, special connections, silly faces and all.
I photograph anything from maternity to newborn, babies, children and grown up kids but what I specialize in and am known for is contemporary lifestyle children and family photography.
I 'm in the process of opening a natural light studio in the heart of downtown Ridgewood (the doors should be open by September 9) but I travel all over Northern New Jersey for sessions.
My studio will be a perfect place for meeting with clients for their Pre-Session consultations, in-person design sessions and a great option for photographing babies and children when the weather isn't cooperating.
How and why did you decide to get into the business of family photography?
I have a degree in Computer Science and had been in the corporate world for over 10 years.   And while my job paid well, I did not get much satisfaction from it.   What did bring me lots of joy was photography.  I realized this as my husband and I travelled all over the world (have been to close to 50 countries!) and, I would take literally thousands of images on our trips.
In the winter of 2008, my twin girls were born.  I was on a maternity leave, enjoying my brand new daughters and taking a zillion of pictures of them.  They were growing so fast and I loved looking at their images and seeing how much they changed from week to week. I realized that I loved taking pictures of them even better than photographing exotic landscapes in Namibia or Bhutan. And, a light bulb went on in my head – I finally knew what I wanted to be now that I was grown up – I wanted to be photographer!    It took A LOT of time and effort, reading, practicing, learning, workshops, online photography forums, classes to make my dream come true.  And I know that my  journey is not complete as there are always things to learn. But I am thrilled that I was able to find something that is very meaningful for me and turn it into a successful career.
Winning my first photography award!  Photo competitions really help you grow as a photographer and push you out of your comfort zone. Hearing top industry's professionals critique your work can be nerve-wrecking but that's the best way to improve.  A few years ago I worked up enough courage to submit one of my images to a photography competition held by the National Association of Professional Children Photographers.  There were literally thousands of entries from top children and family photographers worldwide, and they were judged by a panel of crème de la crop of the industry.  While I thought my image was strong I wanted to get an unbiased opinion of my peers about it.
I was (im)patiently waiting for the results when one morning I opened my email to see a subject of congratulations. I screamed out loud. It was beyond amazing to be recognized for my work by top professionals in the children and family photography industry.
What sets you apart from other photographers? 
Besides my artistic vision and years of family photography experience, there are several ways in which I'm different:
First, I customize the experience to suit my clients' needs.  During a pre-session consultation I talk to my clients to understand what they would like to get out of their photo session and what they are looking for in their photography art work.  But also, just as importantly, I want to see and learn what their family and kids are like, what interests them, how they spend time together, what activities they enjoy so that I can create an atmosphere at the photo session in which the they can be themselves.
Based on this, I try to make my sessions fun for the entire family – so that the best parts, and the true depth of the love and relationships of the family, shine through.  A session with me is not just about taking pictures. My goal is to provide my clients with beautiful images that capture the real 'them'.   Returning clients tell me that they look forward to sessions with me because they are relaxed and laid back and just plain fun!
I take time to connect with every family, get to know the kids and capture their personalities.   Upon seeing their images clients tell me that images are so 'them'!  And I believe capturing that is really priceless.
My clients get a lot of attention from me not only at their actual sessions but also before and after the session – I help style sessions, select products and images that will look best in my clients homes and even help recommend on the best place in their home  to display the finished work.
Why do you think family photography is important?
Well, I could go on and on – how much time do you have ? For me family photography is about capturing and preserving images of your children and your family as they are at this moment.
Kids grow up way too fast – it seems that one minute they are little toddlers, who want to cuddle and hold your hand and for whom you are the center of the universe.  And you blink and they change – from toddlers they turn into little boys or girls and then into big girls and boys.  The chubby cheeks, arms and legs and toddler bellies are gone and instead you are looking at your very own big boys or girls.   For me photography is the one way to be able to bottle that up, to freeze these special moments.
Also, something else I find is that in most families, Moms are the designated photographers and since they are almost the ones behind the camera, there are rarely in any images.  That was the case with me  – I was in very few pictures for the first couple of years after my girls were born – my excuse was that I was always the one TAKING pictures, but in reality I was not that happy with all that extra baby weight I was carrying around.  Then I had an epiphany – I realized that years down the road I would not care about extra 5 (or actually more) pounds I still had to lose.  I would want to see images of me and my girls – playing with them, being silly, laughing. So, my family actually hires a photographer every year to do our family pictures –I feel it is so important to have that documented. I'm excited to have all these images for my girls when they grow up – what's more priceless than photographs that capture family memories?
What word of advice would you give to our readers?
Pick up your camera and capture your life – your kids, your spouse, everything that is important to you.   Don't wait till it is time to get your holiday cards done  – photograph your children a lot more than that.  Capture their silly faces, their funny faces, their thoughtful faces – one day they will stop making them and you might really miss those moments.
You don't need a fancy camera – you can take meaningful images with a point-and-shoot or even your phone.  If you have a nice camera, then learn how to use it – reading a manual is a great starting point.   I have put together a simple guide for taking better pictures of your family – you can get it here.
And most importantly get IN FRONT of the camera – make sure there are plenty of images of you.  Give the camera to your spouse, friend, etc.  And get family pictures – not the posed ones where you all stand in a line, say 'cheese' and have fake smiles, but natural ones that really capture you and your family.  And when you feel you need a professional to help you capture your family and your memories, give me a call.
We welcome Lena as our site's newest sponsor. Check out this gallery of her magical photos: