This is my favorite winter dish. It's warm, comforting, and easy to make. It's a great all in one dish if you're making a meal for someone. You can use either lamb or beef and cater it to your taste.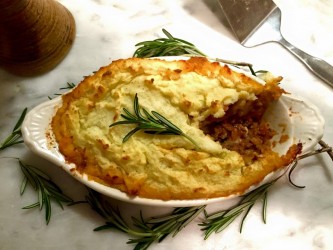 1 1/2 lbs russet potatoes
1/4 cup whole milk
2 oz butter
3/4 teaspoon salt
1/4 teaspoon black pepper
1 egg yolk

2 tablespoons vegetable or canola oil
1 cup chopped onion
2 chopped carrots
2 cloves minced garlic
1-1/2 lb ground beef
1 teaspoon salt
1/2 teaspoon freshly ground black pepper
2 tablespoons all-purpose flour
2 teaspoons tomato paste
one can of beef broth
1 teaspoon worcestershire sauce
2 teaspoons chopped rosemary
1 teaspoon chopped thyme
1/2 cup frozen corn
1/2 cup frozen peas

Make mashed potatoes.
Peel the potatoes and cut into small pieces. Put potatoes in saucepan with cold water and cover. Place over a high heat, and bring water to a boil. Uncover pan and turn heat down to simmering. Cook until potatoes are tender when touched with a for, 12 to 15 minutes. While potatoes are simmering, warm milk and butter, about 35 seconds. Drain water from the potatoes in a colander. Return to pan. Mash the potatoes with fork. Add milk and butter, salt and pepper. Mash until creamy. Add egg yolk and combine.

Preheat oven to 400ºF.

Prepare filling.
Place the oil into a 12-inch saute pan and set over medium high heat. Add the onion and carrots. Saute 3 to 4 minutes. Add in garlic. Add the beef and cook until brown, about 5 minutes. Stir in flour and cook for one more minute. Add tomato paste, beef broth, Worcestershire, rosemary, thyme, salt and pepper. Heat to a boil, then reduce heat to low. Cover and simmer 10 to 12 minutes. Add corn and peas to the meat.

Spread mixture into an 11 x 7-inch baking dish. Top with the mashed potatoes. Make sure potatoes are covering all the meat so that it creates a seal. Place it on cooking sheet inside the oven on a middle rack. Bake for 25 minutes or until the potatoes start to brown a bit. Remove and cool for 15 minutes before serving.

Size:

Serves 6-8 people.