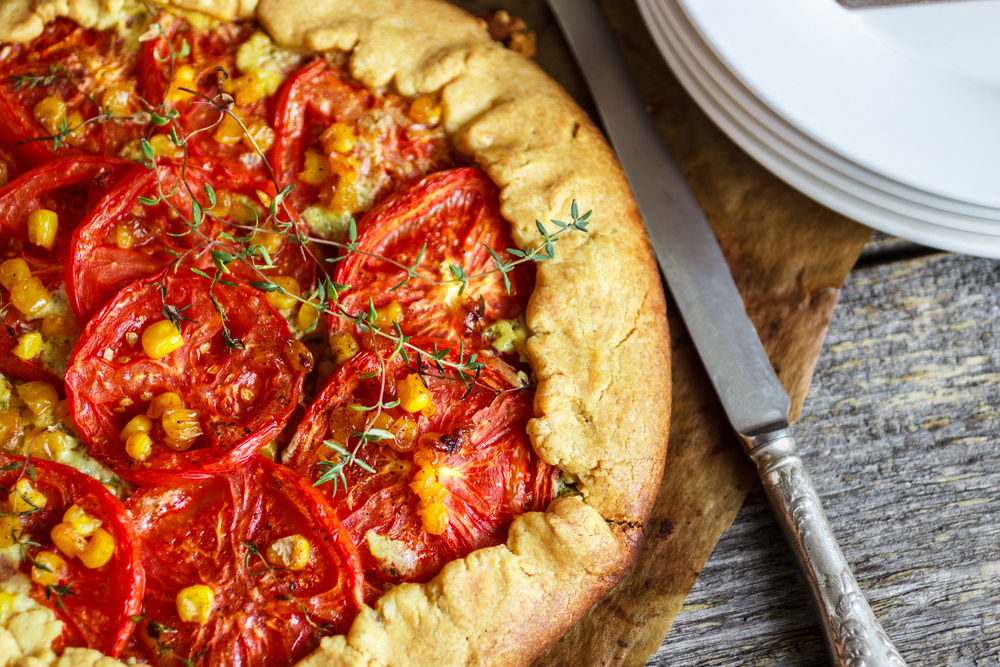 Eating Well

Summer is the season to take advantage of your local farmers' market. Are you inspired by the piles of fresh tomatoes, sweet corn and shiny peppers in every color of the rainbow? Use the season's bounty in these healthy recipes from Eating Well.

Tomatoes and corn have a natural affinity for one another: the slight acidity of tomatoes balances the sweetness of the corn. Here they partner in a delicious quiche-like pie. The dough is very forgiving and bakes up into a sturdy shell that's great for just about any savory pie or tart. Perfect for a summer brunch or try it with a tossed salad for a light supper. 

Size:

6 servings



Ingredients:
Crust
3/4 cup whole-wheat pastry flour (see Note)
3/4 cup all-purpose flour
1/2 teaspoon salt
1/2 teaspoon freshly ground pepper
1/3 cup extra-virgin olive oil
5 tablespoons cold water
Filling
3 large eggs
1 cup low-fat milk
1/2 cup shredded sharp Cheddar cheese, divided
2 medium tomatoes, sliced
1 cup fresh corn kernels (about 1 large ear; see Tip) or frozen
1 tablespoon chopped fresh thyme or 1 teaspoon dried
1/2 teaspoon salt, divided
1/4 teaspoon freshly ground pepper



Directions:




To prepare crust: Combine whole-wheat flour, all-purpose flour, 1/2 teaspoon each salt and pepper in a large bowl. Make a well in the center, add oil and water and gradually stir them in to form a soft dough. Wrap the dough in plastic and chill in the refrigerator for 15 minutes.

Preheat oven to 400°F.

Roll the dough into a 12-inch circle on a lightly floured surface. Transfer to a 9-inch pie pan, preferably deep-dish, and press into the bottom and up the sides. Trim any overhanging crust. Line the dough with a piece of foil or parchment paper large enough to lift out easily; fill evenly with pie weights or dry beans. Bake for 20 minutes. Remove the foil or paper and weights. Let cool on a wire rack for at least 10 minutes or up to 1 hour.

To prepare filling: Whisk eggs and milk in a medium bowl. Sprinkle half the cheese over the crust, then layer half the tomatoes evenly over the cheese. Sprinkle with corn, thyme, 1/4 teaspoon each salt and pepper and the remaining 1/4 cup cheese. Layer the remaining tomatoes on top and sprinkle with the remaining 1/4 teaspoon salt. Pour the egg mixture over the top.

Bake the pie until a knife inserted in the center comes out clean, 40 to 50 minutes. Let cool for 20 minutes before serving.