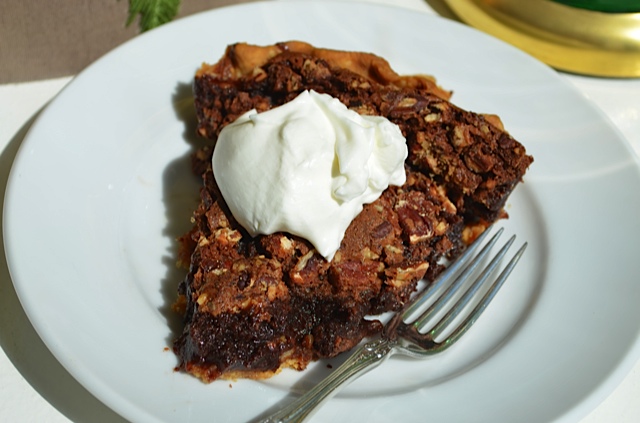 prepared by and photo by Emily S. Downs

A generous dollop of whipped cream, decadent chocolate and buttery rich pecans make this Southern classic a winner.

Size:

serves 10



Ingredients:
1 store bought pie crust (in refrigerated section)
1 1/2 cups pecan halves
2 tbsp butter, softened
1/2 cup firmly packed brown sugar
1 cup dark corn syrup
3 eggs, lightly beaten
1 1/2 tsp cornstarch
4 oz semisweet chocolate, melted
2 tbsp bourbon
Whipped cream



Directions:




Preheat the oven to 375F.  Firmly press the dough against the bottom and sides of the pan.  Fold the edges under and crimp the crust.  Chop 1 cup of the pecan halves and place in the bottom of the crust.  Reserve the remaining 1/2 cup pecan halves.

In a medium bowl, with an electric mixer on medium speed, beat the butter, brown sugar, and corn syrup until well-blended.  Beat in the eggs and cornstarch.  While beating, slowly drizzle in the chocolate and beat until blended.  Beat in the bourbon.  Place over the pecans in the pie crust.  Carefully arrange the remaining 1/2 cup pecan halves over the pie, pressing them gently with a fork to coat with filling.

Bake for 45 minutes, or until a knife inserted near the center comes out clean.  Cool on a rack.