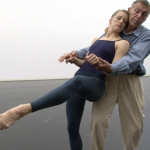 The Picture House Regional Film Center (TPH) will show a special screening of the documentary Paul Taylor: Creative Domain followed by a discussion and Q&A with the film's director, Kate Geis. Among the most acclaimed choreographers in American history, Paul Taylor has been reinventing the roles of music, movement, and theme in dance for nearly 60 years. In that time he has offered only glimpses into his creative process. Paul Taylor: Creative Domain is an unprecedented, in-depth exploration of how Taylor creates a single dance.
Creative Domain takes off where the Academy Award-nominated Dancemaker about the then 69-year old choreographer left the viewer. Creative Domain is the next chapter in the creative life of Taylor, beginning with the choreographer dancing in his youth and moving to present day, with Taylor, now in his 80's, still living his life in the moment, with his mind intently focused on his next dance. The dominant voice of the documentary is Taylor's and, between the guarded and unguarded moments, the film shows him in a new light and with a new understanding.
Paul Taylor: Creative Domain was the official selection of a number of film festivals including the Berkshire International Film Festival and the San Francisco Dance Film Festival. It was also the 'Critics' Pick' of both The New York Times and the Village Voice with The New York Times saying: "…we're shown what the camera has seldom been able to record: a great choreographer at work on a new piece…"
After the screening, Clayton Bushong, Director of Programming at The Picture House will lead a discussion and Q&A with the film's director, Kate Geis. Geis is an Emmy-award-winning documentary producer and director.  She began her career in New York producing programs for WNET, Channel Thirteen, History Channel, A&E, and Metro TV. Over the past 20 years her subject matter has been a diverse exploration of people's lives: Eric Carle, Miranda Weese, Saturday Night Live's set design team, the last checker cab driver in New York, public school principals, and Paul Taylor. Her first feature-length documentary on the festival circuit was,Riversense, which told the story of four whitewater kayakers on their journey down rivers and through life.
Born in Germany, Geis spent her early childhood in Bucharest and Leningrad with her foreign-service parents. She grew up in New York City and graduated with a Bachelor of Science degree from Northwestern University.
Tickets to the special screening of Paul Taylor Creative Domain are $12/general admission, $6/members, $10/students and seniors and are available at
www.thepicturehouse.org
 or at the box office, 175 Wolfs Lane, Pelham, NY 10803.