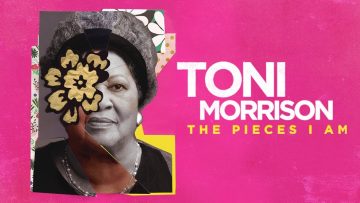 Monday, October 21 at 6:30pm
Ridgewood Public Library
The film The Pieces I Am will be shown at the Ridgewood Public Library Monday, October 21as part of The 17th Annual Reel Voices Film Festival. The documentary offers an artful and intimate meditation on the life and works of the acclaimed novelist, Toni Morrison, who passed away in August at the age of 88. The film will be followed with a discussion led by Guest Speaker: NYU Professor, Dr. Sybil Cooksey, a scholar of afro-diasporic cultural history.
From her childhood in the steel town of Lorain, Ohio to '70s-era book tours with Muhammad Ali, from the front lines with Angela Davis to her own riverfront writing room, Toni Morrison leads an assembly of her peers, critics and colleagues on an exploration of race, America, history and the human condition as seen through the prism of her own literature.​
In addition to Ms. Morrison, the film features interviews with Hilton Als, Angela Davis, Fran Lebowitz, Walter Mosley, Sonia Sanchez and Oprah Winfrey, who turned Morrison's novel Beloved into a feature film. Using Timothy Greenfield-Sanders' elegant portrait-style interviews, Toni Morrison: The Pieces I Am includes original music by Kathryn Bostic, a specially created opening sequence by artist Mickalene Thomas, and evocative works by other contemporary African-American artists including Kara Walker, Rashid Johnson and Kerry James Marshall.
Tickets are $5. Register here.
For Information, contact Roberta Panjwani, Festival Coordinator, at rpanjwani@ridgewoodlibrary.org or call (201) 670-5600, ext. 132
Sponsored by the Friends of the Library and the Ridgewood Education Foundation.