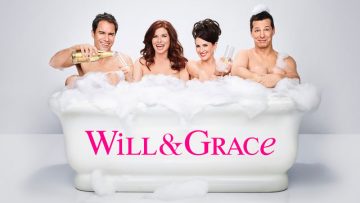 What single girl in the city didn't wish they had a Will in their life? He's almost the perfect boyfriend. An adorable, successful, sweet guy who will nurture and spoil you; accept your insanity; and not expect anything more from you than your friendship and possibly your child (Will that be revisited?!) I was lucky during my single nyc days to have had few "Wills" in my life. There was the occasional sleepover with my "Wilsl" snuggled up drinking wine and watching Will and Grace wishing that we were as cute as they were, none of them approached the level of suffocating love that those two characters had. I loved and looked forward to Will & Grace when it was on. And my heart broke a little when it went off the air.
But last night, my friends came back. And they're all a little older, but still looking good. As Jack would say,"There's no shame in getting old; there's only shame in getting ugly." And although the first episode was a little predictable and slightly forced, as always, it make me laugh out loud. That slight awkwardness is to be expected after an 11 year apart! We all have to get used to each other again. I can't wait for more over-the-top, perfectly timed Karen and Jack moments and sweet but funny, perfectly-timed, Will and Grace moments that leave me jealous wishing that I still had a "Will" in my life. My single days are long over so It'll be fun to watch it these with the kids.
See it Thursdays at 9pm.