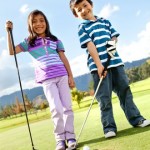 By teaching your kids to golf, you're introducing them to a sport they may be able to play for the rest of their lives. One of the keys to getting your child interested in golf is finding a program that they enjoy participating in. One that nurtures their interest and stresses having fun. Ultimately, parents are the catalyst to the growth of their child's interest in golf. A visit to the driving range where you and your child can spend time together is an excellent way to get started. Invite some of your child's friends along so they associate golf with fun. Unless you are qualified to teach, don't worry too much about instructing your child. Just make sure that he or she gets an opportunity to hit some balls and enjoy the exercise. Junior programs offer social interaction. Kids learn that golf is a social game played by rules of conduct and proper etiquette. Here are some junior programs:
Wyckoff Family YMCA: Spring Golf session for Grades K-8 on Fridays from 4:15 starting April 21. A five level golf enrichment program that takes place primarily at youth centers across the U.S.
Glen Rock Summer Golf Camp: Total Golf Adventures is back for the fourth summer in Glen Rock. TGA provides a high-quality golf camp experience for every camper. TGA's professional staff will teach campers the basics and fundamentals of the game, while preparing them for on-course play with family or friends. Instructors cater to all skill levels, from beginners to experienced young players looking to hone their skills. The maximum ratio of campers to instructors is 8:1, ensuring that each child gets the individual attention necessary to maximize his/her skill development and learning experience. For children ages 5-11 9 a.m.-noon, Coleman School, $195/week Session 1: July July 8-12; Session 2: July 15-19 Session 3: July 22-26; Session 4: July 29-Aug. 2
Darlington Golf Center: Spring Lessons: 4 – 8 Students  (4) 1 Hour Lessons. Wednesday: May 25; June 1, 8, 15, 22; 4:00 PM – 5:00 PM. Thursday: May 26; June 2, 9, 16, 23; 4:00 PM – 5:00 PM. Saturday: May 21, 28; June 4, 11, 18, 25; 10:00 AM – 11:00 AM. Summer Camp Registration is on a first-come, first-serve basis. Priority in-person registration is available at the driving range or you can mail the form to: Darlington Golf Center, 279 Campgaw Rd., Mahwah, NJ 07430 OR fax the form to: (201) 818-2281.
Greenhouse Golf: Located in Waldwick, NJ, the brand new golf facility provides the ultimate indoor golf experience, with 10 official PGA golf simulators where you can play courses normally reserved for the world's premier golfers, an 18-hole dynamic miniature golf course, two putting greens and Summer Camps. Greenhouse weekly golf camps are indoors, air conditioned, hands-on and video-technology enhanced. They provide game improvement along with enjoyment. Elite Campers also get on-course opportunities. By far, the majority of  campers from Summer 2012 came back week after week, saying, "this is the best camp I've ever attended." Over 160 juniors from ages 8 to 17 attended Summer 2012 camps. Watch for announcements of our Summer 2013 camp registration.
The David Leadbetter Family Golf School: This golf center at Crystal Springs Resort in Vernon, NJ is a great way to get the whole family involved in a fun game improvement and learning experience. The 2-Family School format includes six-hours of instruction available as a morning session from 9 a.m. to noon, or 1:30 p.m. to 4:30 p.m. as an afternoon session. Your Certified David Leadbetter instructor will cover the fundamentals of both the full swing and short game and help the whole family 'build games for a lifetime'! Your entire family will leave with a better understanding of golf as well as the skills to improve all their games.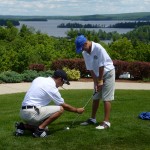 The Maine Golf and Tennis Academy: This sleepaway camp has been selected by Sports Illustrated KIDS, as the best golf camp in America. Maine Golf and Tennis Academy is a sleepaway camp on the Belgrade Lakes, a 6 hour drive from Ridgewood (there is bus pick-up closer). The biggest advantage of the combination golf camp, tennis camp and summer camp is your child's ability to customize his or her mixture of golf, tennis and traditional camp activities, to suit your child's desire, aptitude, skill level, appetite and interests. Campers create their own curriculum. They can play golf or tennis and waterski everyday.