Hate to pack for vacation? Here are some tips to make it easier from the examiner.com.
1. Make a list. This is by far the best thing you can do. It can help you organize your thoughts and prevent you from throwing item upon item into an already overflowing bag.
2. Stick to one color theme. Its nature to want to mix things up, but when you're carrying 3 pairs of shoes instead of 12, you'll be glad you only brought neutral colored shoes instead of the neon pink ones you felt sad about leaving behind. Think black, brown, cream, gold and beige for shoes and bags. If you stick to this rule, you'll always have a matching accessory even if it is a little more basic.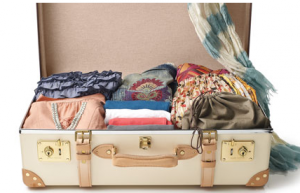 3. Layer. Chances are wherever you go will be cooler in the evenings. Think light dress for day time and a blazer or cardigan to layer for dinner. Same dress worn two ways and a simple way to mix it up for photos.
4. Worried number 2 is too boring? If you're really concerned about losing your sparkle on vacation because of all of the neutrals in your bag, think about bringing some fun colored statement jewelry to liven it up.
5. Bottoms. You don't need 7 different pairs of jeans period. If you're planning to bring a high-waist pair of pants just for one outfit, leave it at home. Chances are that same top will look fabulous with the pair of skinnies you packed.
6. Roll with it, literally. Rolling your clothes as opposed to folding can eliminate unused space. Place socks and belts in shoes. Don't waste any space.
7. Lastly, just in case, always keep makeup, a quick change of clothes (like a dress and sandals) and other pertinent items with you in a smaller bag or carry on. This applies mostly to airplane travel, but you never know if that bag will be delayed/lost!
Here is a list from Style Blueprint on what goes in a suitcase for a beach vacation:
3 swimsuits, and if they are 2-pieces, make sure the bottoms coordinate with the tops so you have even more options
2 tunics and/or 2 sundresses (to total 2) that will serve as coverups by day and going out pieces by night
4-10 pairs panties and 2-3 bras, depending on washer/dryer availability
PJ's
2-5 pairs of gym shorts (if you plan to work out), depending on washer/dryer availability
2 T-shirts and 3 tank tops
2 going out tops, like a sparkly tank and a linen camp shirt
One pair Bermuda shorts, preferably white
One fun skirt, preferably white
White jeans
Light sweater or jacket
Pashmina
1 pair flip flops
1 pair trainers or athleisure shoes + socks
1 pair wedges
A colorful statement necklace
Gold hoop earrings
A floppy hat that folds in your suitcase
Toiletries & incidentals (Make travel size toiletries from drug store containers.)
Check to see if your hotel provides a hair dryer. Use hotel shampoo/conditioner.
Make sure to pack electronic chargers.