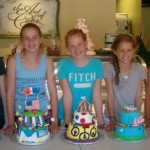 Every year, parents are faced with the same question: how to make the summer both fun and constructive for their kids. More families are turning to summer enrichment programs as a way of adding value to the summer camp experience. But not all summer enrichment camps are created equal. The right summer enrichment camp can make all the difference in your child's self esteem, personal interests, and leadership skills.
Bergen Community College – Kids & Teens Summer Camp Programs 2013 runs from July 1- August 8, 2013. Full and Half Day Programs are for Ages 7-16. Offering Computers, Science, Enrichment, Sports, Visual & Performing Arts. Programs include Lego Films, Make Your First App, Google Earth, Acting, Princesses and more. They also have before and after care.
HealthBarn USA Summer Camp, ages 5-12: Voted Best of Bergen's summer camp and editor's pick by (201) magazine.  A camp all about healthy-lifestyle.  Our campers get in tip-top shape working in the garden, cooking and eating all-natural, nutritious recipes for breakfast, lunch and snack everyday!  The Rachael Ray Show featured HealthBarn USA. This one-of-kind fun and educational experience on a farm from 9:00 a.m. – 3:00 p.m. includes: Planting and harvesting local organic produce, cooking healthy recipes and playing nutrition education games, creative arts and crafts, nature activities, environmental sciences team projects, sports activities, yoga, scavenger hunts, professional instruction for children, nutritious all natural breakfast, snacks and lunches provided (they accommodate for allergies). They also participate in a local farmers' market selling their own produce. Summer camp 2012 enrollment is open, click here to download enrollment information.  Please note that space is limited to only 25 campers per week, so the early bird definitely gets the worm for this summer.
Buehler Challenger & Science Center's Space Camp 2013, students entering grades Pre -K through grade 12: Like astronauts in training, you will learn about living and working in space, the forces of flight, or investigating the prospects of life in the universe. You might build a model rocket, an airplane, or a magnetic levitation vehicle. You will work with teammates to construct a lunar base, a futuristic airport, or design a starship. Just imagine yourself acting as a Mission Controller or an Astronaut as you fly simulated Camp runs Monday-Friday, 9 AM-3 PM.
Porchlight Productions Summer Programs, Elementary through High School students: Summer programs include a variety of theatre and music programs for children and adults. Working closely with arts-educators, students are given a creative, positive environment to express themselves artistically. Weekly camps for elementary age students, a 4-week musical theatre programs for middle schoolers, a summer stock internship program for high school and college students and multiple sessions of the Rock Academy program.
Teen Cooking and Baking Camps, for teens ages 11-17.  Chef Central, 240 Route 17 North, and the curriculum is similar to that of a professional cooking school. The week-long camps include: Cooking Camps I and II, Italian I and II and Baking I and II. Each day will cover one major area of cooking. Each session will finish with a family-style meal prepared by the students.
The Art of Cake Summer Camp, appropriate for ages 6 – 17. Campers are busy every day working with fondant, making delicious treats to bring home daily and best of all they design and decorate a two tiered fondant cake to share with their friends or family! Campers attend camp for one week:  Monday – Thursday from  9:00 a.m. to 12:00 p.m. or 1:00 p.m. to 4:00 p.m. Campers are grouped together according to age.  To register or for additional information on availability, please call 201-483-9176 or email at artofcake@gmail.com.  Camps are limited to 8 campers per session and some sessions are  full so please register early.
Space Camp in Ridgewood at Hawes School
Students will learn astronomy by going into a planetarium, build and launch model rockets, learn about the history of flight, solve problems in groups, play space games, enjoy physical fitness, perform experiments and make art projects. Session I: Monday, July 1-Friday, Jul 12; 8 am to 12 noon. Session II: Monday, July 15-Friday, July 26; 8am-12 noon. Call 201-444-5565 for more information.
The Ridgewood Culinary Studio Summer Camp, Ages 3-15: Enjoy cooking with the Ridgewood Culinary Studio in the carefree days of summer. Each week is a new adventure experimenting in our kitchen with camps called Let's Go Camping, All About Herbs, Art of Baking,  Culinary Tour of Ridgewood, Around the World and more! A healthy lunch is prepared and served daily. Special arrangements can be made for children with food allergies.To register for any of our camps, please call the studio at 201 447-2665.
Summer Super Stars, 4-years-old to 8th graders: A summer day camp that is uniquely tailored for gifted kids with the enrichment of academically challenging classes and plenty of fun activities. Summer Super Stars day camp is held at Northern Regional High School in Allendale, NJ. Morning classes emphasize group and individual projects designed to stimulate the imagination, develop higher order thinking skills, and inspire hands-on creativity. A variety of courses are offered each year that may include physical, chemical, and biological sciences, math, logic and problem solving, writing, acting, art, and culture. Afternoons are spent at Crestwood Lake. The recreational fun at camp includes swimming at beautiful Crestwood Lake right down the block from the high school. Other afternoon activities may include sand castle building contests, tennis, sports, and various clubs – drama, technology, rocketry, computer games, arts and crafts, set design, and more. Every Friday, campers have either field trips to visit area attractions or museums or enjoy special in-house events that augment the curriculum and provide increased opportunities for learning.
ID Tech Camp – Does your child love gaming, programming, drawing, or filming movies? At ID Tech Camp, learn firsthand how to develop hobbies and interests into so much more.  Give students a competitive advantage for college, or ignite a young child's passion. Beginner to advanced students ages 7-17 enroll in these fun and challenging, weeklong, day and overnight summer camps held at 60 prestigious universities nationwide.  Small class sizes (max 8:1) are guaranteed.
SuperCamp – SuperCamp is world-renowned for its life skills training. The summer program can help your son or daughter increase grades while building their confidence, motivation and the drive to break through barriers that can hold them back in life. The camp's life skills curriculum focuses on developing communication skills, building stronger personal relationships with family and friends, developing teamwork and leadership ability, boosting creativity and problem-solving ability, and setting clear goals.