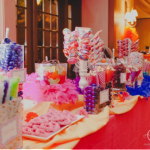 When I found out recently that a new shop called Sugar Rush opened in Madison I knew I had to go in and take a look. Sugar Rush opened on September 8 and is conveniently located at 10 Waverly Place in Madison.
What an adorable store it turned out to be; so bright, colorful, cheery, and fun. The jars of assorted loose candy on display immediately caught my attention, as did the nostalgic candy items such as Pez dispensers, ring pops, and buttons on a sheet. There were shelves on the left filled with a unique variety of children's toys, puzzles, and games. In addition, you will find "candy-themed" jewelry that looked good enough to eat.
The proprietor, Andrea Zembilis, can help make your next party a little sweeter with customized individual favors, bags, and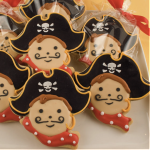 labels filled with candy or cookies. She also designs candy buffets that include personalized set-up. While I was there, she pointed out a few examples of children's favors that looked great.
Children will definitely fall in love with Sugar Rush, but make no mistake, so will adults! I purchased a plastic multi-compartment container of small candies that included red licorice bites, jelly beans, gummi bears, and gummi watermelon slices. Needless to say, there's only a few jelly beans left!