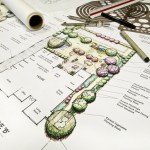 Spring is approaching (yay!) and many homeowners are now thinking about their landscape projects. Whether you want to add to your existing landscape plan, completely remake your yard or install a new plan as part of a home construction project, you can do one of two things: hire a landscaper for your property or find a system that you, the homeowner, can facilitate on your own. We asked Dardan Bilali owner of LSI Services Inc. (a local landscaper and provider of lawn maintenance, irrigation, lighting, and snow plowing) to give us some helpful hints for both:
Tips for Finding a Quality Landscape Company
Make sure the Company is Fully Licensed and Insured.
Use your fellow neighbors and friends as your best resources – a positive recommendation or referral from a friend or neighbor can prove to be very helpful when choosing the right company.
Make sure the Company is a Member of the proper Landscape Associations that would allow the customer to have access to all the current information pertinent to maximizing the overall beauty and functionality of your property.
Ask for 5 current customers – phone numbers and address. It's good for a potential customer to take a peek at each property to make sure they are happy with the landscapers routines, crew, etc.
Always make sure the company provides you with the Owners cell phone. You should hire a company that is completely accessible – not just for emergencies, but for basic questions you would like answered. Regardless of the question or urgency, you should be able to reach some with quickness and ease.
Tips for Homeowner
Have a plan of attack – create a budget for yourself and determine how much you would like to spend per month to maintain your property
Determine how much time you can give to your property – weekly cutting, spreading fertilizer/chemicals, pruning, etc.
Purchase a homeowner friendly lawn care system such as Scott's 4 Step Chemical Plan – its user friendly, and will get you up and running throughout the season.
It's a great time to check the garage and shed for proper tools and equipment.