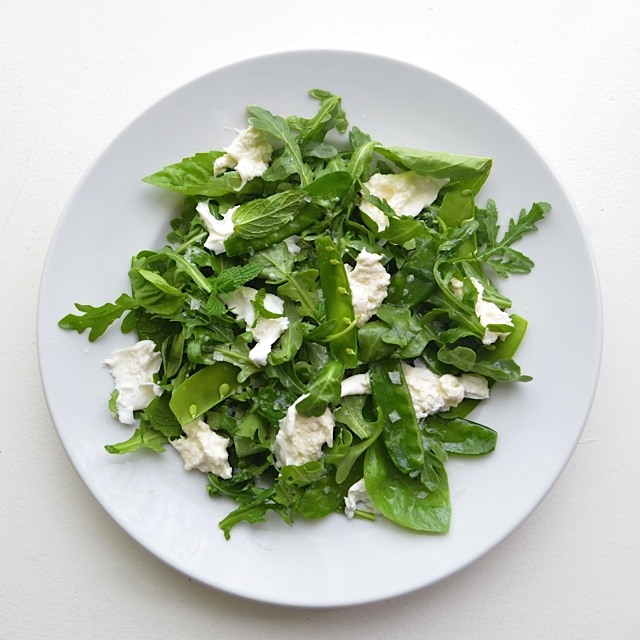 prepared by and photo by Emily S. Downs

A recipe from Bon Appetit May 2013… tasty side salad with any late spring/summer meal or even as a lunch dish. Crisp sugar snap peas and /or snow peas mixed with arugula, basil, mint and the ever-amazing burrata cheese. Man I love burrata cheese.

Size:

4 servings



Ingredients:
8 oz sugar snap peas, trimmed, strings removed (I used snow peas, as that is what I had in the frig)
4 cup arugula, thick stems trimmed
1/4 cup fresh basil leaves plus more for serving
1/4 cup fresh mint leaves plus more for serving
2-3 tbsp extra-virgin olive oil
2-3 tbsp fresh lemon juice
Flaky sea salt (such as Maldon (Whole Foods/Fairway)), or coarse sea salt
1 lb burrata or fresh buffalo mozzarella (Kings, Whole Foods, Fairway)



Directions:




Cut pea pods in half lengthwise, leaving some peas on each side of pods. Combine peas, arugula, 1/4 cup basil, and 1/4 cup mint in a large bowl. Add oil (beginning with 2 tablespoons) and 2 tablespoons of lemon juice and toss to coat. Season salad with salt and more lemon juice, if desired.
Tear open balls of burrata (if using buffalo mozzarella, slice 1/2″ thick) and arrange on a platter. Top with salad and more basil and mint.